Whether it is about putting something back into the game you love, progressing your career, helping out at your local club, or simply providing more support to your child, there is a reason for everyone to get involved in cricket coaching.
Coaching is an enormously rewarding, challenging and crucial role in cricket. 
ECB Foundation I Coach is a new coach development programme and qualification that has been created to help more people take their first steps into coaching cricket.
A blend of e-learning and face-to-face modules led by ECB Coach Developers will explore what coaching looks like, the impact you can have as an ECB Foundation I Coach, the skills you can help players to develop and how you can learn from your experiences.
By committing yourself to this programme and becoming a qualified coach you will become an important part of the ECB's coaching family that works together to help players improve, have fun, be safe and learn at every stage of their development.
Programme outcomes
This programme has been designed to give learners the knowledge, skills and confidence to coach cricket sessions that are active, purposeful, enjoyable and safe.
An ECB Foundation I Coach will be qualified to lead coaching sessions independently and without supervision.
It is now the entry level qualification required to coach cricket.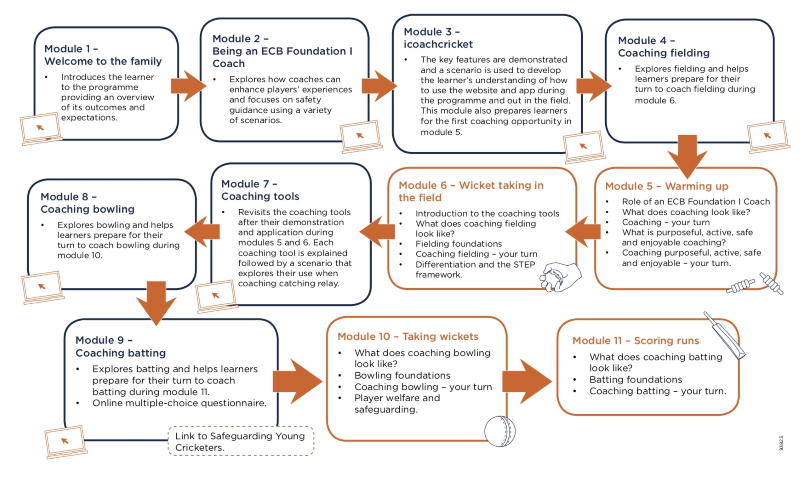 Content
Role of an ECB Foundation I Coach

What does coaching look like?

icoachcricket

Coaching fielding, bowling and batting

Foundation principles – fielding, bowling and batting

The coaching tools

Purposeful sessions

Active sessions

Safe sessions

Enjoyable sessions

Differentiation
Who is it for?
Anyone aged 17 and over wishing to become qualified to coach cricket, inspire players and make a difference to the game.
Commitment
4 face-to-face modules lasting 3 hours each

7 bitesize e-learning modules lasting 10-15 minutes each

3 observed coaching opportunities during face-to-face modules and an online multiple choice questionnaire

£150.00
Pre-requisites for certification
18 years of age

Valid safeguarding training e.g. Safeguarding Young Cricketers

ECB DBS
Upcoming ECB Foundation I Coach programmes
Chichester Free School - https://booking.ecb.co.uk/d/h7q6k1
Wednesday 17th and 24th February - both 6pm-9pm
Sunday 28th February - 10am-4pm
All three dates need to be attended in order to complete the course.
Robertsbridge Community College - https://booking.ecb.co.uk/d/07q6k3
Sunday 7th and 14th March - 10am-4pm
Both dates need to be attended in order to complete the course. 
Foundation 2 Coaching Courses
This course is designed to help to develop your confidence and equip you with the knowledge, understanding and applied skills to support a qualified coach in a coaching session and create a safe, enjoyable and welcoming player-centred environment.
TBC
Horntye Sports Complex, Bohemia Road, Hastings TN34 1EX
3rd November 2020
6:30pm to 9:30pm
Sussex CCC, The 1st Central County Ground, Eaton Road, Hove BN3 3AN - POSTPONED
7th November 2020
10:30am to 1:30pm
Charis Centre, West Green Drive, Crawley RH11 7EL - POSTPONED
12th November 2020
6:30pm to 9:30pm
West Wittering CC, Millennium Meadow, Elms Lane, West Wittering PO20 8LW - POSTPONED
19th November 2020
6:30pm to 9:30pm
IMPORTANT:

Face Masks to be worn inside the building but can be removed once in the training room. Mask will also need to be worn if the trainer needs to work with you at a distance of less than 2 metres during the course. 
Please bring your own pen and paper if you wish to take notes although this is not essential as it is a very practical course with no written assessment. 
A 2 metre distance will be maintained for all participants. Hand sanitiser and hand washing facilities will be provided by the venue.
Safeguarding Young Cricketers
Any coach needing to renew their SPC training will need to do the online Safeguarding Young Cricketers (SYC) e-learning module to refresh knowledge. This course is FREE, to book a place please follow the link below, complete the form and you will be sent and invitation to complete registration for the course. Please note that this course is for SPC/SYC renewals only.
Click here and complete the form to be sent an invitation to register
If you have completed a Safeguarding Young Cricketers module via your e-learning account, you DO NOT need to sign up to a new Safeguarding Young Cricketers course as you will have the live accreditation running continually against your E-Learning account.
Each accreditation is valid for 3 years from the date you completed your Safeguarding Young Cricketers assessment.
Please note that you cannot re-accredit the Safeguarding Young Cricketers module/qualification until you get sent a reminder email directly from the E-Learning site, which is sent 30 days before your accreditation is due to expire, prompting you to renew your existing Safeguarding Young Cricketers accreditation.
Any attempt to complete the module prior to 30 days before your current expiry date will not count as a renewal of your accreditation; only within 30 days from your current accreditation expiry.
At this point, you will see Safeguarding Young Cricketers showing under the blue banner called 'Active Learning' on your homepage (aka the dashboard), so completing this at that point will re-accredit you for another 3 years.
If you have registered for a course that has an E-Learning component attached to it, you will receive an email shortly after registering on to the course, containing details on how to access the E-Learning site (also known as Moodle); https://elearning.ecb.co.uk
If you have not yet received your E-Learning email, please check your junk/spam folder and remember that some email addresses may be blocked by more stringent firewalls (particularly school and university email addresses). If you are yet to have received this email, you can contact E-Learning support at elearning@ecb.co.uk 
Since February 2020, the way you access the E-Learning site / your E-Learning account has changed. It is now accessed via the Single Sign On (SSO) Portal.
Originally it was just the Play-Cricket site that was accessed via the SSO Portal, but now the same SSO credentials (username being your email address and a password of your choice) can be used to access both sites; E-Learning & Play-Cricket.
If you are a new user of the Single Sign On Portal, the email you receive (after booking on to your course) will contain and link and instructions on how to set up your access on the ECB Login Portal; including setting a password, accepting terms and conditions (please scroll down and check the tick boxes) and selecting your marketing preferences (please just select yes or no as you see fit). If you already have an existing SSO account (for an existing Play-Cricket account), then you can use your existing password when logging in to E-Learning. 
Once you have set up your account you can access the E-Learning site by;
Going to https://elearning.ecb.co.uk/ >
What is a DBS?
DBS is short for the Disclosure & Barring Service which provides a vetting check on those working in a paid or voluntary role with children and vulnerable adults. Completing a DBS is part of the process ECB, County Boards and Clubs have in place to safeguard the young people within our care.
The system for completing a DBS check in cricket is now done online which has increased the efficiency of the process and time taken for clearance to come back.
Who must have a DBS check?
Anyone over the age of 16 holding any of the following positions in a club, league or other cricket organisation must have a valid and current (less than 3 years old) DBS certificate:
All Stars Children's Helper

All Stars Children's Activator

Captain / Vice Captain

Club Welfare Officer

Coach

Coach Support Worker

County Welfare Officer

First Aid Responder

Junior Supervisor

Junior / Colts Manager

League Welfare Officer

Physiotherapist

Safeguarding Recruiter

Scorer

Team Manager

Umpire

Volunteer Co-Ordinator Children

Academy Director

Children's Cricket Talent Scout

Masseur

Medical Staff

Phycologist

Strength / Conditioning Coach
Roles which are NOT eligible for Vetting Checks
Chairman

Treasurer

Secretary (Membership or Fixtures-including Junior Membership secretary)

Bar Manager

Ground Staff

Administrator
How do I obtain a DBS check?
A new DBS check can only be initiated by your Club ID verifier if your club has one.
Alternatively you can request an application by completing our online form – CLICK HERE
Following the receipt of an email inviting you to complete your DBS application you will complete an online form with various personal details and once this is complete you can then arrange to meet an identity checker to confirm your ID.
Should you have any issues getting a DBS check initiated please contact Eddie Hick
How Much Will It Cost?
The cost of obtaining will be met by the ECB for all volunteers involved with cricket. The cost for those earning income through cricket is £40.
Who will know about my criminal convictions?
If convictions are revealed through a Vetting Check only the ECB Child Protection Team will be aware of these unless there is an over-riding need to share information with the County Welfare Officer or other external agencies in order to protect children. Where information is shared, this is done in accordance with the requirements of 'Working Together to Safeguard Children, 2013'. All information is kept confidential and managed within a secure environment, in line with the requirements of the Data Protection Act and the DBS Code of Practice.
Sussex Association of Cricket Coaches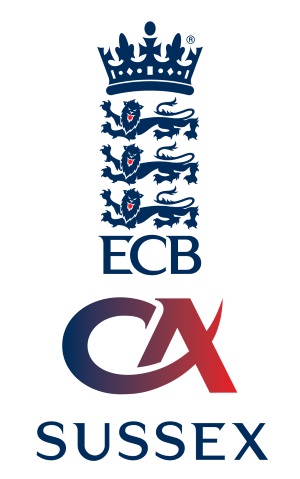 For further information click here