CURRENT MATCH: Northamptonshire vs Sussex CCC
Match Reports
|
15 Mar 2019
Ollie Robinson & Abi Sakande stand-out performers as Sussex make it two tour wins in two days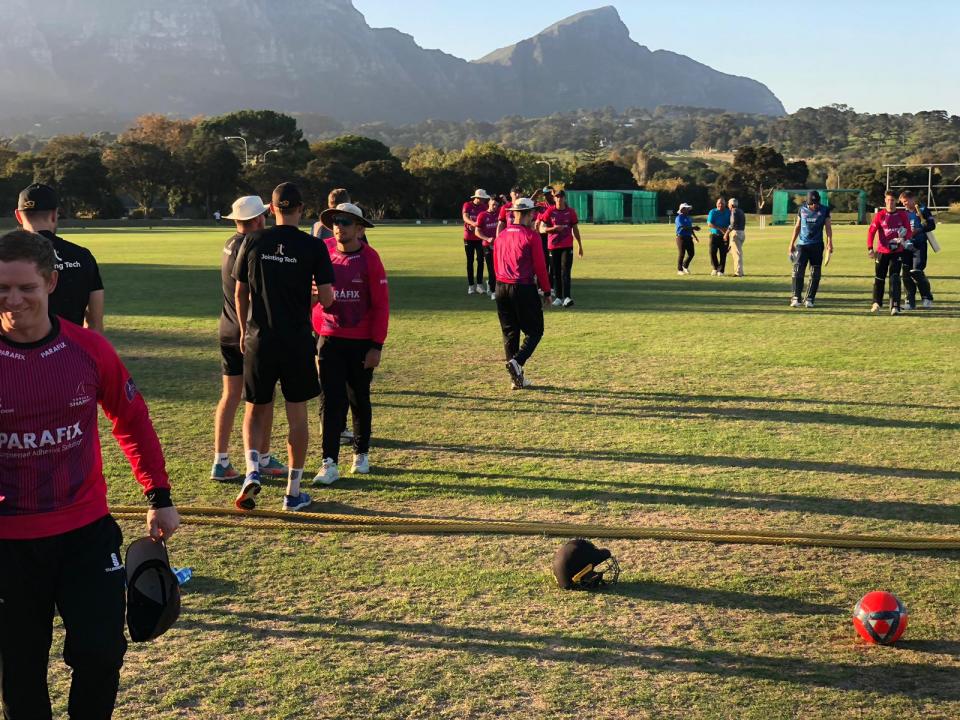 Sussex continued their positive start to the men's pre-season tour to Cape Town with their second win in as many days against Kent at Claremont CC on Friday.
A belligerent, unbeaten half-century for Ollie Robinson and a fine seam-bowling performance from Abi Sakande were the key contributions as the Sharks downed the Spitfires by six runs.
Batting first in a 40-over/12-player-per-side match, Sussex lost opener Luke Wells early. Luke Wright (49) and Michael Burgess (18) then combined to add 69 for the second wicket, before both were dismissed inside the 15th over by Adam Milne.
That prompted the loss of five wickets for 49 runs to leave the side in some trouble at 108 for six in the 23rd over, before George Garton and Robinson launched a counterattack, adding 75 runs for the seventh-wicket. Robinson's innings included 13 boundaries and only nine dot balls and came off just 47 balls.
Garton's was the seventh wicket to fall with the score on 183 and six-and-a-half overs remaining. He had made 41 when he was caught off the bowling of Harry Podmore.
Robinson continued his onslaught so that when the innings closed at 241 for nine he had made 86 not out from 47 balls, including 13 boundaries and just nine dot balls.
Playing his first match since surgery on his hip at the end of last season, Robinson didn't have to wait long for his next significant impact on the game. He struck in the first over of Kent's reply, having Zack Crawley caught for a duck.
Sean Dickson was next to fall, Robinson's new-ball partner, Sakande the man to strike. Academy player Will Sheffield then got rid of Daniel Bell-Drummond with his first-ball to leave Kent 54 for three in the ninth over.
The Spitfires came roaring back, however, with their own Ollie Robinson blasting the majority of a forty-run partnership with Adam Rouse that came inside just four overs. That stand was broken, however, when Rouse was trapped in front for three by Will Beer.
Alex Blake (12) fell to academy off-spinner, Jack Carson, in the 22nd over to leave Kent 138-5 and needing 104 for victory.
Robinson and first-year professional Jordan Cox then put their side into a very favourable position by adding 47 together. Sheffield made the crucial breakthrough, however, having Robinson caught for 89.
With three overs remaining Kent required 29 runs with four wickets remaining, and the run-out of Cox for 48 further swung the pendulum Sussex's way.
Sakande's superb control throughout the innings was rewarded with two wickets from the final two balls of Kent's innings of 235 for nine as Sussex completed victory. The seamer finished with two for 11 from his six overs.
The Sharks next fixture comes next Wednesday when they take on Durham at Cape Town CC.
Luke Wells – 0
Luke Wright – 49
Michael Burgess – 18
Harry Finch – 8
Ben Brown*+ - 6
Delray Rawlins – 17 & 3-0-14-0
George Garton – 41& 5-0-22-0
Ollie Robinson – 86* & 8-0-49-1
Will Beer – 7 & 7-0-33-1
Jack Carson – 1 & 6-0-35-1
Abi Sakande – 1* & 6-0-11-3
Will Sheffield – DNB & 5-0-29-2