Jason Gillespie 'incredibly pleased' to reach Vitality Blast knockout stages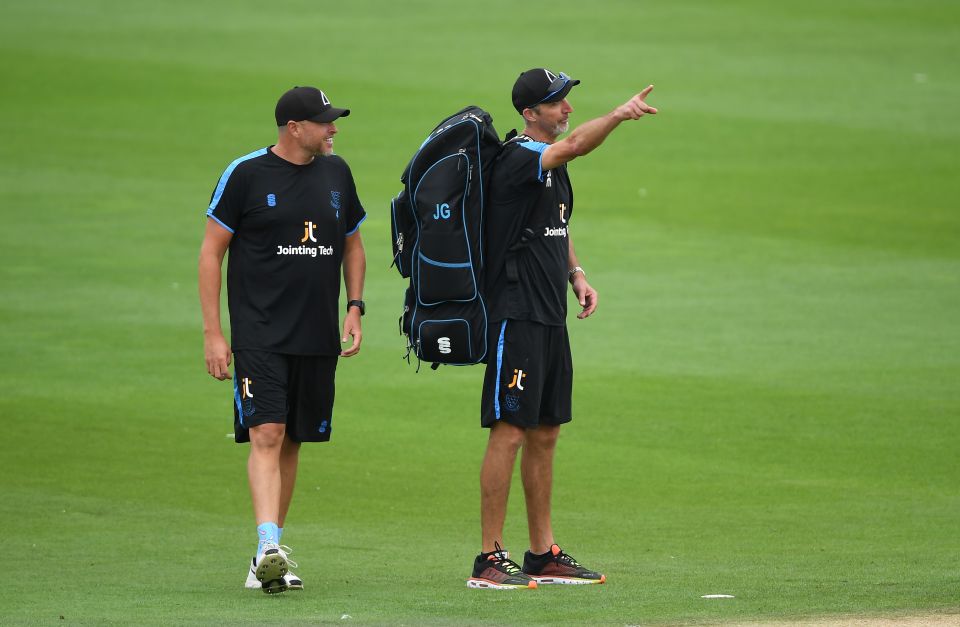 Sussex head coach, Jason Gillespie said he was "incredibly pleased" after his side secured their spot in the Vitality Blast quarter-finals.
The Sharks beat Essex Eagles by four wickets to seal a home tie against Lancashire Lightning in the last eight after a hectic run of ten Blast matches in 24 days.
Speaking to BBC Sussex's Adrian Harms, Dizzy said: "We're really pleased with the result. To restrict a side like Essex to 136 was a great effort with the ball.
"All the bowlers started really well – everyone did a great job. I thought they were very good, although, if we reflect on the match – we could have adjusted our plans a little bit to [Paul] Walter, who batted beautifully in the situation.
"But, on that surface, their total was probably under par, so we were very pleased at the halfway stage.
"We had a little wobble with the bat. There was some poor decision-making and we didn't always play the situation particularly well – but Calum [MacLeod] and George [Garton] did do that.
"They assessed where we were at and what needed to be done. I thought the maturity of that partnership really stood out.
"I'm incredibly pleased to come away with a win and secure a quarter-final spot."
After a strong bowling display and a fast start with the bat from Phil Salt, who scored 42 off just 21 balls, wickets began to fall in quick succession and Gillespie knows how detrimental that can be.
"We certainly need to minimise wickets going down in the middle order because we need to be better. As a batting group, we've spoken about that.
"There's no doubt that we can do things better on occasions but overall I'm really pleased. The lads have played some really good cricket throughout the tournament so far so I'm a pretty happy coach right now!"
Just like against Middlesex on Friday, which saw George Garton take 4-27 and then hit a match-winning 24 off nine balls, the 23-year-old shone at Chelmsford on Sunday.
He took 4-21 with the ball against the Eagles, which included a dismissal off his first ball and a double-wicket maiden in the opening over, and saw the Sharks over the line with an unbeaten 34.
Gillespie said: "The last couple of games, George has been like Gary Sobers! He's been extraordinary and has played very well.
"He's really clear with what he's trying to do out there on the field with bat and ball in hand. We know he's a skilful cricketer but he's been smart and adjusted to situations and that's what really stood out to the coaching staff."
On a dramatic final afternoon in the Vitality Blast group stages, the Sharks went above Kent Spitfires to finish second in the South Group and in doing so, secured a home quarter-final.
While the importance of familiar surroundings cannot be underestimated in sport, Gillespie is just happy to be in the last eight.
"Personally, just making the quarter-finals is fantastic." said Gillespie.
"The South Group is a notoriously challenging group to progress from so I'm delighted for all the boys. They've worked their butts off.
"They've all worked really hard so it's pleasing to see where still in the competition deep into the season, and now we're looking forward to our next game.
"Over the last few years, I think Lancashire have won the most T20 games in the country. They're one of the top teams.
"We know we're in for a great contest against them – a great challenge. When the day comes around, we'll be very excited to go out there and showcase our skills and put on a show."