CURRENT MATCH:
Sussex CCC vs Kent
Video special: Ollie Robinson's 15 Sussex five-fers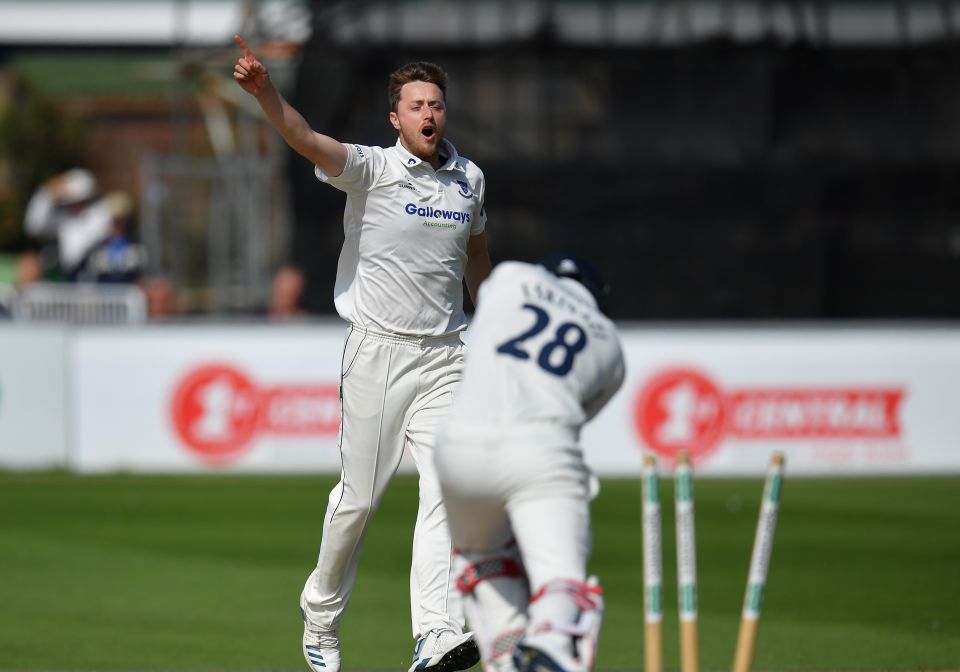 With his incredible performance in Cardiff over the weekend, Ollie Robinson now has 15 first-class five-wicket hauls for Sussex. That's better than one in every four matches and means a 'Michelle' in every 5.66 innings for the 27-year-old.
The first of those came in Ollie's third appearance for the county, when he took 6 for 33 in the first innings of a thrilling one wicket-win for Sussex against Warwickshire at Hove. He dismissed six of the visitors' top seven batsmen, as Warwickshire were bowled out for 180.
Ollie had to wait 24 first-class matches for his next five-wicket haul as injury issues limited his appearances and potency (although he still managed five four-wicket hauls in that time). In the final game of the 2017 Championship season, Ollie took 5 for 69 in the first innings (including one with his increasingly rare off-spin) against Durham at Chester-le-Street as Sussex finished the campaign with a 132-run victory.
That opened the floodgates. The summer of 2018 was Ollie's real breakthrough, during which he took five first-class five-wicket hauls (to go with four wickets in an innings on four occasions). The first of those was in the university match against Loughborough, when his 7 for 23 provided a stern examination for the students. Ollie was again in seventh heaven a month later, this time against county opposition, when he took 7 for 58 against Middlesex.
A remarkable run of three consecutive five-fers followed towards the end of the season, when Ollie took 5 for 24 and 5 for 43 in a thumping win against Leicestershire at The 1st Central County Ground and then followed it up a week later with 5 for 29 in the first innings against Durham.
Those milestone performances were sandwiched by two four-wicket hauls that started and ended an incredible run of 23 wickets in five innings over two weeks that September. Ollie finished the 2018 season with 74 first-class wickets, comfortably the most by an English-qualified seamer and the most by a Sussex seamer in a season since James Kirtley's 75 in 2001.
There were six five-fers for Ollie in 2019, although only two of them actually involved five wickets. If Middlesex's batsmen thought they'd had it rough in June when Ollie took 7 for 98 against them at Lord's, they were forced to reassess when he welcomed them to Hove with a new career-best of 8 for 34 in August.
Ollie went onto take 6 for 101 in the second innings, his match figures of 14 for 135 the best by a Sussex bowler since Thomson on that historic occasion at Worthing 55 years prior.
Between his maulings of Middlesex, Ollie nabbed 5 for 86 against Worcestershire and 6 for 63 versus Northamptonshire. In the course of the Northamptonshire match and the home Middlesex fixture which took place next to each other in the Championship fixture list (albeit seven weeks apart), Ollie took a staggering 24 wickets.
There was time for one more haul in the penultimate match of the season against Derbyshire when Ollie took 5 for 88 to finish with 63 first-class wickets for the summer in just eleven matches. Ollie's 140 Championship wickets across 2018 and 2019 was the most for any seamer, and among all bowlers only Simon Harmer, with 143, of Essex had more.
A successful winter with England Lions over the winter of 2019/20 had Ollie raring to go for the 2020 campaign and looking for full England honours. Then the pandemic struck, and he would have to wait until August for the return of first-class cricket. He made up for lost time, however, taking 5 for 29 in Sussex's opening match of the Bob Willis Trophy, a win against Hampshire. The England bubble limited Ollie to just two first-class appearances in 2020, but he still managed 14 wickets.
Then, just when you thought things couldn't get any better, Ollie takes 9 for 78 to make it 15 five-wicket hauls. Talking of 15, Ollie is one of only 15 men to take nine wickets in an innings for Sussex since the club's formation in 1839.
THIRTEEN wickets. 🤯

Enjoy every single one from @OllieRobinson25's simply incredible display vs. Glamorgan right here! 👇🎥 pic.twitter.com/FqcXFoQ5nP

— Sussex Cricket (@SussexCCC) April 18, 2021
His astonishing performance against Glamorgan means that now only two men have taken more wickets in an innings for Sussex than Ollie Robinson. Cyril Bland and Ian Thomson are the two Sussex players with a perfect ten. Bland took 10 for 48 against Kent at the Angel Ground in Tonbridge in the 1899 Championship, while fellow seamer Thomson bagged 10 for 49 against Warwickshire at Worthing in the 1964 campaign. In fact, Ollie's performance over the weekend is the best by a Sussex seamer since Thomson's at the Manor Ground (Among the spinners, Mushtaq Ahmed took 9 for 48 against Nottinghamshire at Trent Bridge in the title winning season of 2006). Will Ollie become the third Sussex man to take all ten? Given his irresistible wicket-taking form season after season, you wouldn't bet against it.
'The Rig' now has 257 wickets at an average of 20.84 in 58 first-class matches for Sussex since his debut for the county in 2015. His stats over the past four summers are even more gobsmacking. Since the start of the 2018 season he has taken 173 wickets in just 31 matches – including 13 of his 15 five-fers - at a Sydney Barnes-esque average of just 16.5.