>
NEXT MATCH: Gloucestershire vs Sussex CCC
Sussex's Australian one-day internationals: Kepler Wessels & Tony Dodemaide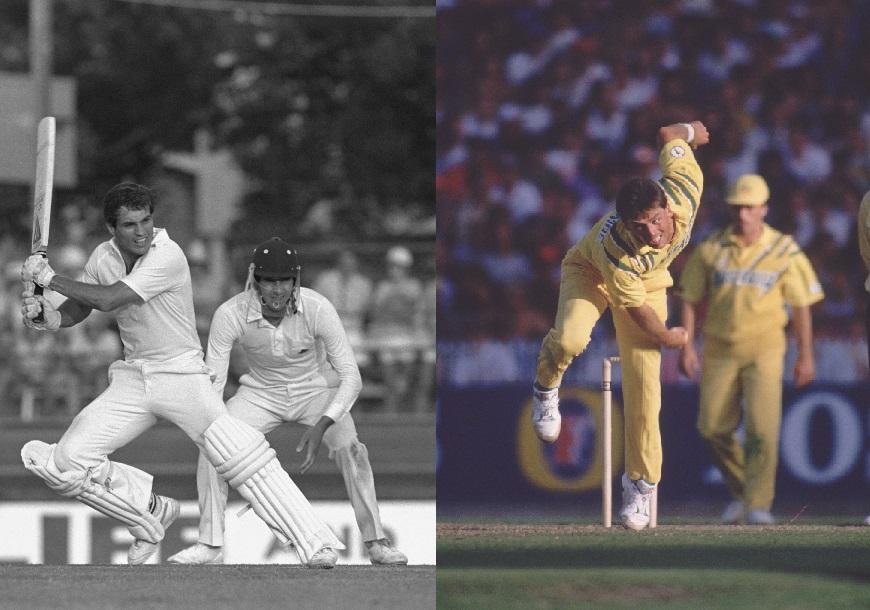 Part One: Kepler Wessels & Tony Dodemaide
Tickets for Sussex Sharks' floodlit one-day match against Australia on Thursday 7th June went on sale this week. To mark the occasion, we are taking a look back at the Australian one-day international cricketers that have also donned a Sussex shirt. Part one of three examines the careers of the first two Aussie limited over stars to represent the county.
Kepler Wessels
ODI record for Australia (1983-1985): 54 matches. 1,740 runs @ 36.3 (12x100, 38x50, HS 107). 18 wickets @ 36.38 (BB 2-16)
Sussex overall record (1976-1980): 97 matches, 5,816 runs @ 46.2 1(2x100, 38x50, HS 254)
Wessels played 54 ODIs for Australia
Born in Bloemfontein, South Africa and most famous for being the first man to play one-day internationals for two countries, Wessels also played a part in five seasons for Sussex. Arriving on the south coast as a 19-year-old in 1976, Wessels spent most of his first season confined to the 2nd XI, although he did make 55 not out against the fearsome West Indies attack during a tour match.
He played nine matches the following season, and scored his highest List A score for Sussex on his competitive one-day debut against Nottinghamshire in the Benson & Hedges Cup that year. National Service in South Africa and a squash-induced knee injury limited his appearances in 1978, and so it wasn't until the following year that Wessels was able to demonstrate his full capabilities. He scored 1,800 runs in all competitions in 1979, before placing third in the national Championship averages in 1980.
Throughout this period, however, competition for the two overseas player spots in the Sussex side was intense with Wessels, Imran Khan and Javed Mianded and then Wessels, Khan and Garth Le Roux on the books and Wessels' contract was not renewed at the end of the 1980 season.
At the behest of former Sussex captain, Tony Greig, he emigrated to Australia to play World Series Cricket. After serving a qualification period, Wessels went on to make his one-day international debut for Australia against New Zealand at the MCG in 1983. That same year, Wessels returned to Hove and opened the batting for Australia in two warm-up matches against Sussex ahead of the World Cup. After 53 appearances for his adopted country, he would ultimately go on to play further 55 ODIs for his native South Africa after their readmission in 1991.
Tony Dodemaide
ODI record (1988-1993): 24 matches. 36 wickets @ 20.9 (BB 5-21). 124 runs @ 13.77 (HS 30)
Sussex overall record (1989-1991): 121 matches. 249 wickets @ 31.3 (5x5w, BB 6-9). 3,061 runs @ 31.6 (3x100, 9x50, HS 112).

Dodemaide in action for Victoria
A Victorian all rounder, Tony Dodemaide's first encounter with cricket in Sussex was as a 21-year-old on an Esso scholarship who played in the 2nd XI in 1985. He returned to the county three years later as an international cricketer who had been the first person to claim a five-wicket haul on ODI debut when he took 5-21 against Sri Lanka in 1988.
He played three seasons at the County Ground, the best of those coming in 1990 when he combined 1,314 runs with 93 wickets in all competitions. Both his first-class and one-day best bowling for Sussex came during that season and he also made his top score for the club: 112 against Somerset in a Championship match at Hove.
Dodemaide actually played against Australia for Sussex in the 1989 one-day tour match, when he scored 17 not out and took 2-59 from his 11 overs as Sussex won by four wickets. He would go on to become Head of Cricket at the MCC, before returning to Australia to take up the position of CEO at Western Australia. He is now Cricket Victoria's Chief Executive in his home town of Melbourne.

Dodemaide is now CEO of Cricket Victoria
Witness the next chapter of Sussex & Australia's one-day history. Tickets for Sussex Sharks vs. Australia on Thursday 7th June 2018 are available here.  
Feature sources: '100 Greats: Sussex County Cricket Club' by John Wallace, Lancashire Telegraph, Cricinfo, Cricket Archive