>
NEXT MATCH: Sussex CCC vs Hampshire
Sussex Cricket remembers those it lost during the First World War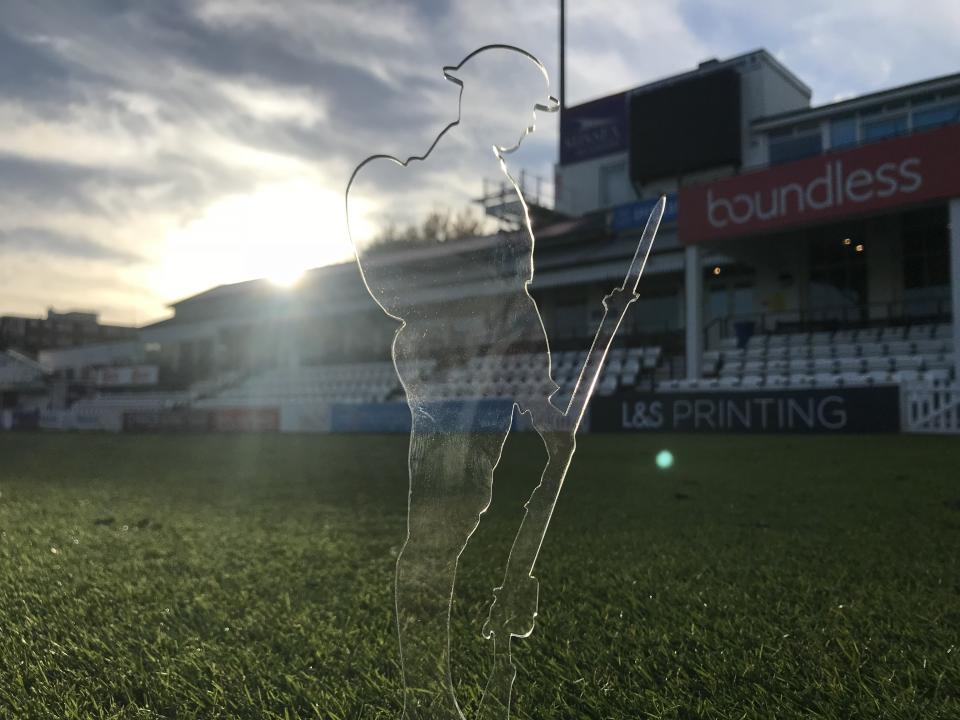 To commemorate the centenary of Armistice Day on Sunday 11th November, Sussex Cricket is proud to play its part in the ECB's 'Cricket Remembers' campaign to remember the cricketers who fought in the First World War.
County cricket was suspended between 1914-19 and at least 210 cricketers served in the First World War. To mark the 100-year anniversary of the Armistice, ECB commissioned cricket historian David Frith - founder editor of Wisden Cricket Monthly and author of more than 30 cricket books - to create a collection of the remarkable stories of the County players who fought in the First World War.
His feature, titled 'County Cricketers and the 1914-18 War' tells some of the most poignant and heroic war stories from across the county game and is available to read here.
David has also recounted the specific impact of the First World War on Sussex County Cricket Club in a piece that can be read below.
Full details of Sussex's eight first-class cricketers who lost their lives during the conflict follow at the bottom of this page.
Sussex and the First World War
by David Frith
The ever-reliable slow left-armer George Cox (senior) was about to have a benefit match as war loomed, and when the fixture was cancelled by Surrey, he had to nurse his disappointment for a further six years.  In that time eight Sussex players were to die in the war.
That popular Cambridge, Sussex and England batting genius of past years, the Maharaja Jam Sahib of Nawanagar, widely known as K.S.Ranjitsinhji, turned 42 soon after the declaration of war, and the benefit of his considerable resources earned him widespread thanks.  In uniform, he became ADC to the Commander-in-Chief of the British Expeditionary Force, Field Marshal Sir John French.  "Ranji" went to the battle front but was soon laid low with severe asthma by the weather, causing him to return. 
The death in the conflict of Sussex's secretary, Lieut. Francis Oddie, who was serving in the Middlesex Regiment in France in October 1916, was recorded with sadness.  He was among the more mature volunteers at 37.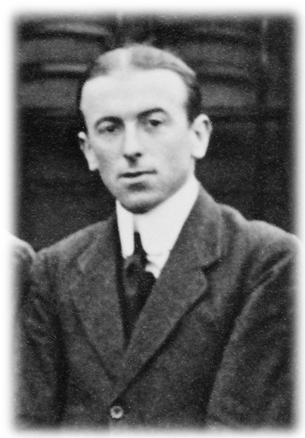 Francis Oddie
Sussex were financially slightly in the red at that stage of the war.  The committee lived in hope that the war would not drag on, and in 1917 Lord Leconfield was elected president following the death of the Duke of Norfolk.
With the return of peace, and the advent of the restored County Championship in its novel two-day form, Sussex suffered 11 defeats in 1919.  The low point of the summer was when Sussex's last man, Harold Heygate, was timed out in the match at Taunton when his painful legs, legacy of a war wound, hampered his journey from pavilion to playing field.  He was dressed in a blue suit, with pads tied around his rheumatic legs.  The umpires applied cricket's law strictly but received little sympathy or understanding.  The match was thus left as a tie.       
Very few of the cricketers from this period are to be found on moving film, but A.H.Lang, the wicketkeeper, is to be seen on rare film of a Sussex v Lancashire match at Horsham in 1913.
Sussex cricketers (first-class) who lost their lives in the First World War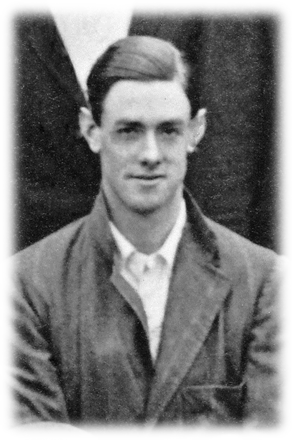 Arthur Horace Lang born Malabar Hill, Bombay, India, October 25, 1890; died Cuinchy, France, January 25, 1915.  2nd Lieutenant Grenadier Guards.  Educated Harrow.  Cambridge University blue 1913; Sussex 13 matches 1911-13: in 22 first-class matches he scored 830 runs at 22.43; highest 141; 17 catches, 16 stumpings; also played for Suffolk.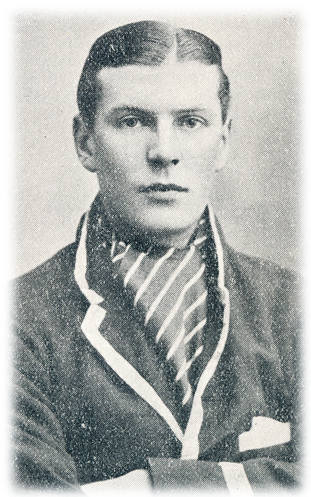 Kenneth Herbert Clayton Woodroffe born Lewes, Sussex, December 9, 1892; died Neuve-Chapelle, France, May 13, 1915.  2nd Lieutenant 6 Battalion Rifle Brigade attached 2nd Welsh Regiment.  Mentioned in Despatches.  Educated Marlborough.  Cambridge blue 1913-14.  Fast bowler.  Two brothers were also killed.  Hampshire 2 matches 1912-13; Sussex 2 matches 1914; in 18 first-class matches he scored 172 runs at 8.19; highest 22 not out; 5 catches; 55 wickets at 27.27; best 6 for 43.  His brother Sidney was awarded the VC.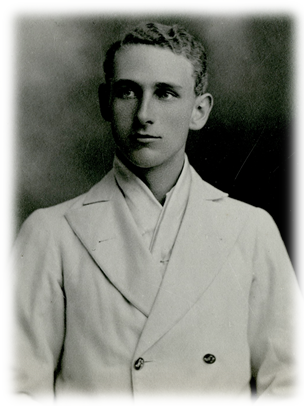 Geoffrey Charles Walter Dowling born Melbourne, Australia, August 12, 1891; died Hooge, Belgium, July 30, 1915.  Captain 7th King's Royal Rifle Corps.  Educated Charterhouse.  Sussex 4 matches 1911-13: 123 runs at 15.37; highest 48; 4 catches; 1 wicket for 19. 
Bernard Henry Holloway born Wandsworth, January 13, 1888; died Loos, France, September 27, 1915.  Captain 9 Battalion Royal Sussex Regiment.  Educated The Leys. Lacrosse for England.  Sussex 8 matches 1911-14; MCC in West Indies 1910-11.  19 first-class matches: 701 runs at 22.61; highest 100; 13 catches.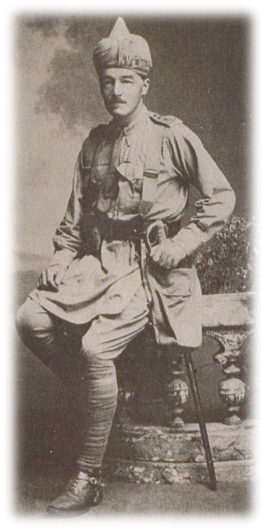 George Lumley Whatford born Eastbourne, July 20, 1878; died Ctesiphon, Mesopotamia, November 22, 1915.   Captain 66th Punjabis.  Educated Harrow.  Sussex 2 matches 1904: 21 runs at 10.50; highest 13.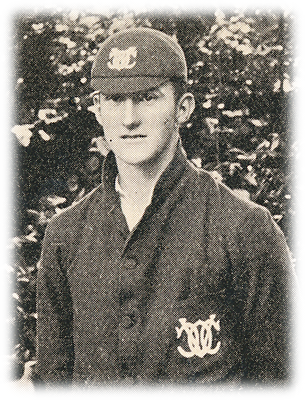 Charles Dennis Fisher born Blatchington Court, Sussex, June 19, 1877; died Jutland (HMS Invincible), May 31, 1916.  Lieutenant RNVR.  Educated Westminster.  Oxford blue 1900.  Sussex 15 matches 1898-1903: 429 first-class runs at 13.40; HS 80; 7 catches; 8 wickets at 30.25; best 2 for 8.  One of 11 children; 6ft 3ins tall; brother killed 1918; another became vice-admiral; another was bank chairman; sister married composer Ralph Vaughan Williams.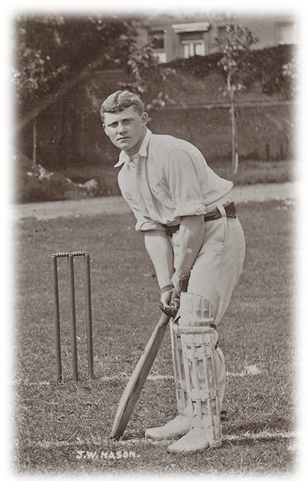 John William Washington Nason - born Tewkesbury, August 4, 1889; died Vlamertinghe, Belgium, December 26, 1916.  Captain Royal Flying Corps.  Gloucestershire 19 matches, having played 22 times for Sussex and won blues at Cambridge 1909-10.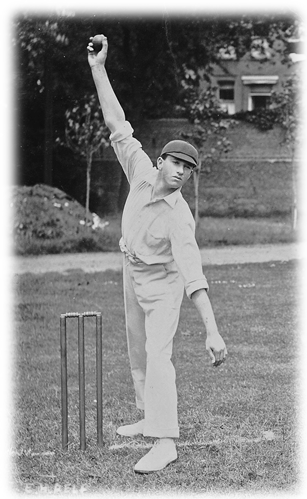 Ernest Herbert Relf born Sandhurst, Berkshire, November 19, 1888; died Evington, Leicester, July 27, 1918.  Gunner 337th Siege Bty, Royal Garrison Artillery.  Brother of A.E. and R.R.Relf (Sussex).  Sussex 12 matches 1912-14: 232 runs at 11.60; HS 36; 3 catches; 8 wickets at 26.50; best 2 for 24.