NEXT MATCH: Gloucestershire vs Sussex Sharks
Sussex Cricket join launch of 'Together Through This Test' campaign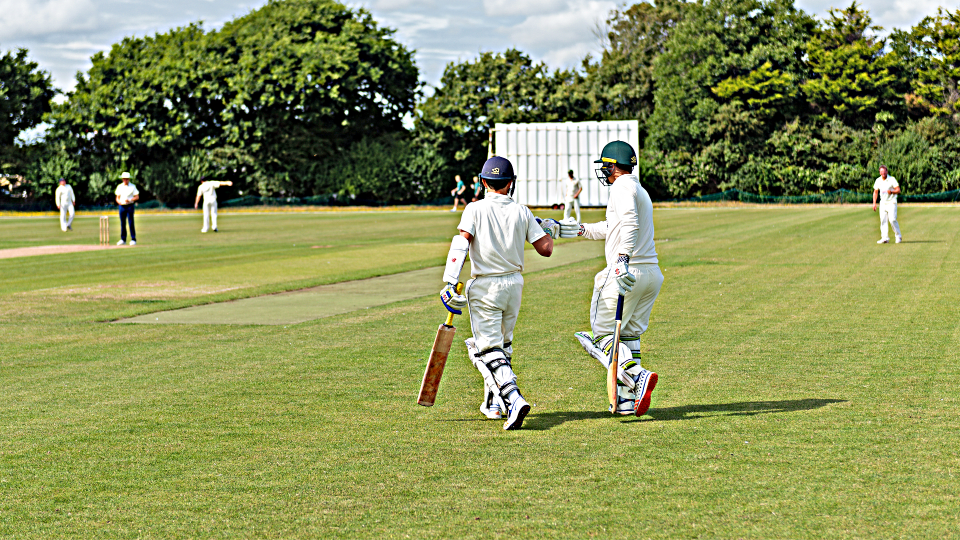 Sussex Cricket is proud to be a part of the nationwide 'Together Through This Test' campaign, which has been launched to shine a light on how the cricket family has reached out to local communities during COVID-19.
The campaign will highlight some of the unsung heroes from across the professional and recreational game, as well as providing updates on, and launching new, cricket-led initiatives that the general public can get involved in to help support their local community.
More than 200 campaigns have already been launched across cricket in England and Wales from volunteers at local clubs embarking on long-distance charity runs to players, coaches and staff at first-class counties phoning members to check on their wellbeing.
At Sussex Cricket, we've recognised the importance of keeping our members engaged and informed, while also making sure we reach out to the wider community in our county to help anyone who might need it during such a testing time. Some initiatives we've launched include:
Sussex Cricket run Sporting Memories sessions via Zoom with volunteers making regular phone calls to participants in need of a chat or some company

Furloughed staff learning new skills such as Community Coaches learning Hindi so they can better communicate with Street Cricket participants

Sussex Cricket launch Children's Activity Book for teachers, coaches, carers and children at home to help keep children active, engaged and entertained 

Sussex Cricket Foundation running club webinars for affiliated clubs in Sussex each week, with over 100 participants each time 

Supported over 50 clubs across Sussex in securing in excess of £350k from the government and Sport England

Sussex Cricket Foundation supporting the inaugural Specsavers Virtual Sussex Schools Games

Sussex Cricket launch 'Sussex Trumps' game for those to enjoy whilst stuck at home to help pass the time

Sussex Cricket premiere old matches on YouTube for supporters to re-live and enjoy whilst at home 

Sussex Cricket Pathway programme migrated to various virtual platforms including Zoom for Strength and Conditioning sessions, Sussex Cricket Pathway app for tracking of training session performance within their own home, and Zoom webinars with former Sussex players to help continue the development of the next generation of Sussex heroes

Sussex Cricket launch Wicket and Innings World Cup's on Social Media for supporters to vote for and crown a winner of each 

Sussex Cricket holding virtual Members' Forums via Zoom to address concerns and continue providing updates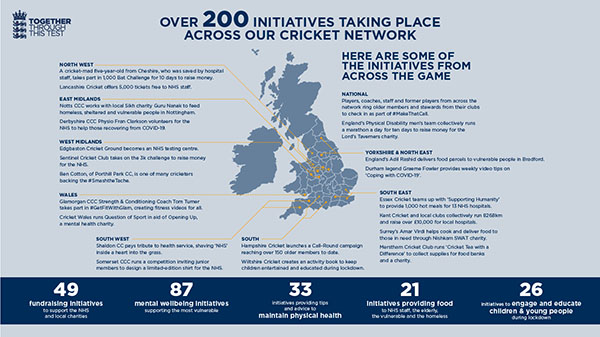 An infographic highlighting the work the cricket family has done so far
Today's launch of Together Through This Test marks the collective response of not just Sussex Cricket, but the cricket family at all levels. A powerful short film, narrated by cricket fan Stephen Fry, underlines the unique quality of a game where patience and digging in for the greater good is a virtue installed within all who play, watch and enjoy the sport.  
The ECB has also set up a COVID-19 resource hub on ecb.co.uk/covid-19 to offer assistance, focusing on providing mental and physical health support, delivering fun and educational resources for children in partnership with Chance to Shine and supporting the recreational game. 
This hub is not only a resource to help people during lockdown but will also provide information and support to the cricket community when cricket is phased back into society. The ECB and wider cricket network will be launching and supporting further initiatives in the coming weeks including:
The Together through this Test auction launching tomorrow (22 May) at 15:00 running until Friday 29th May at 15:00. Involving all 18 First Class Counties, the MCC and the Professional Cricketers Association, the auction will raise money for local charities across England and Wales. Information on the auction items provided by Sussex and where the proceeds from these items will go will be shared on Friday. The auction will be hosted on http://www.cricketauction.co.uk
#DesignOurShirt competition

, in partnership with New Balance, inviting kids to create a new England shirt 

#RaiseTheBat

, an out-of-home campaign using billboards to celebrate key workers from the cricket family

'Safe Haven',

a programme offering club grounds as safe spaces for elderly and vulnerable people to exercise as lockdown eases

A nationwide campaign when lockdown lifts, in partnership with NatWest, to help the cricket network get back on its feet and recognise the challenge we have overcome
For more information on the resources available, please visit www.ecb.co.uk/covid-19. To become a volunteer, please visit the website and contact your local county club.