NEXT MATCH:
Sussex CCC vs Surrey
Seven Sussex players among first-year pros at PCA Rookie Camp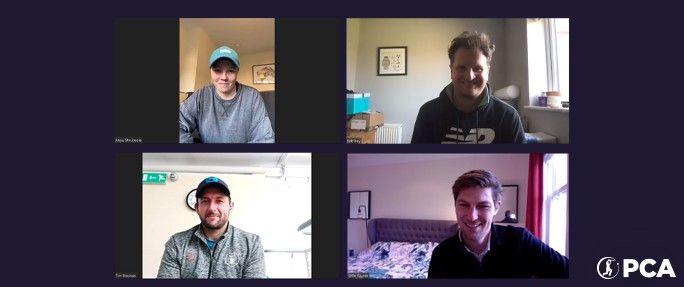 Seven Sussex  players - Georgia Adams, Jamie Atkins, Jack Carson, Henry Crocombe, Sean Hunt, Tara Norris & Paige Scholfield - were among a record 61 PCA members welcomed into the players' association at the PCA's Rookie Camp on Tuesday, with the annual event taking place virtually this year for the first time ever.
Rookie Camp 2021 saw more players in attendance than ever before, with this year's figure surpassing the previous record of 52 set in 2020, and the PCA has now helped over 350 individuals with their entry into the professional game through the initiative which has run since 2010.
Included in the 61 from 2021 are 30 academy players, as well as the new female members who will represent the eight new regional centres in the women's domestic game. Having been formally inducted into the PCA in November 2020, the women members were shown the benefits of being an emerging professional via a series of five seminars throughout the day on Tuesday.
The sessions included a welcome to the PCA from Chief Executive Rob Lynch, a 'Start of Something Special' talk from England stars Anya Shrubsole and Rob Key, as well as an introduction to the PCA's registered charity, the Professional Cricketers' Trust, which offers lifelong support to PCA members when they need it most.
The group of rookies were then given a full lowdown of the benefits they will receive via their PCA membership by association staff, before the series of sessions finished with a 'Maximising Your Opportunities' talk from Warwickshire's Tim Bresnan and the recently retired Ollie Rayner.
Though the PCA was unable to bring the rookies to Edgbaston this year, as is the case under normal circumstances, the new members were nevertheless given a full lowdown of what it means to be a PCA member via Zoom.
Rookie Camp forms part of the PCA's Personal Development and Welfare Programme (PDWP), which aims to improve players' performance on the pitch by minimising distractions off it, as well as helping them to better prepare for life after cricket.
The event, which was supported by Tom Maynard Trust for a ninth year in succession, as well as the Professional Players Federation (PPF), brings together players who have recently signed their first contracts from across the 18 first-class counties as well as the women's game.
Sussex youngster and Rookie Camp attendee Jack Carson said: "Rookie Camp was a great experience to start off my time as a PCA member! It was extremely helpful to hear of what the PCA has to offer and to know that they will always have our best interest a first priority.
"There were also great insights from current and former PCA members about how they have maximised their time in professional cricket."
England Women and Western Storm cricketer Shrubsole said: "I really enjoyed taking some time on Tuesday to speak to the younger players during what was an interesting Q&A session with Rob Key and (PCA Personal Development Manager) Tom Jones. I hope I was able to use my experience to pass down some useful advice to the rookies, including the new female professionals who I look forward to competing against this summer."
PCA Director of Member Services, Ian Thomas, said: "Despite the difficult circumstances, we are pleased to have been able to adapt and offer our rookies taste of what being a PCA member is all about and, as ever, we are grateful to the Professional Players Federation and the Tom Maynard Trust for their ongoing support.
"It's fantastic to see a record number of rookies in attendance for a second year in succession, and particularly pleasing to welcome the new cohort of female members into the PCA, following on from their induction in October.
"Though I am hopeful of a return to Edgbaston for the same event next year, the knowledge that these players will have picked up from the likes of Anya Shrubsole, Tim Bresnan and Rob Key over Zoom will stand them in good stead for the early stages of their careers in professional cricket."
Players in attendance: Georgia Adams (Southern Vipers), Ben Aitchison (Derbyshire), Ben Allison (Essex), Emily Arlott (Central Sparks), Jamie Atkins (Sussex), Sam Bates (Leicestershire), Lauren Bell (Southern Vipers), Ben Birkhead (Yorkshire), Maia Bouchier (Southern Vipers), Georgie Boyce (Thunder), Kathryn Bryce (Lightning), Sarah Bryce (Lightning), Will Buttleman (Essex), Amara Carr (Sunrisers), Jack Carson (Sussex), Kelly Castle (Sunrisers), Ben Compton (Nottinghamshire), Joe Cooke (Glamorgan), Aylish Cranstone (South East Stars), Henry Crocombe (Sussex), Blake Cullen (Middlesex), Robin Das (Essex), Naomi Dattani (Sunrisers), Alice Davidson-Richards (South East Stars), Gwenan Davies (Central Sparks), Josh de Caires (Middlesex), Harry Duke (Yorkshire), Bethan Ellis (Lightning), Abigail Freeborn (Lightning), George Garrett (Warwickshire), Danielle Gibson (Central Sparks), Phoebe Graham (Northern Diamonds), Cordelia Griffith (Sunrisers), Alex Griffiths (Western Storm), Harry Hankins (Gloucestershire), Georgia Hennessy (Western Storm), Lucy Higham (Lightning), Alex Horton (Glamorgan), Sean Hunt (Sussex), Manraj Johal (Warwickshire), Evelyn Jones (Central Sparks), Hannah Jones (Thunder), Eshun Kalley (Essex), Maria Kelly (Central Sparks), Ned Leonard (Somerset), Tom Loten (Yorkshire), Sophie Luff (Western Storm), Fletcha Middleton (Hampshire), Fi Morris (Western Storm), Tara Norris (Southern Vipers), Toby Pettman (Nottinghamshire), Nick Potts (Derbyshire), Nico Reifer (Surrey), Matthew Revis (Yorkshire), Dane Schadendorf (Nottinghamshire), Paige Scholfield (Southern Vipers), Will Smeed (Somerset), Bryony Smith (South East Stars), Ellie Threlkeld (Thunder), Nick Welch (Leicestershire), Nat Wraith (Western Storm)