NEXT MATCH: Sussex Sharks vs Hampshire
Second XI fixtures confirmed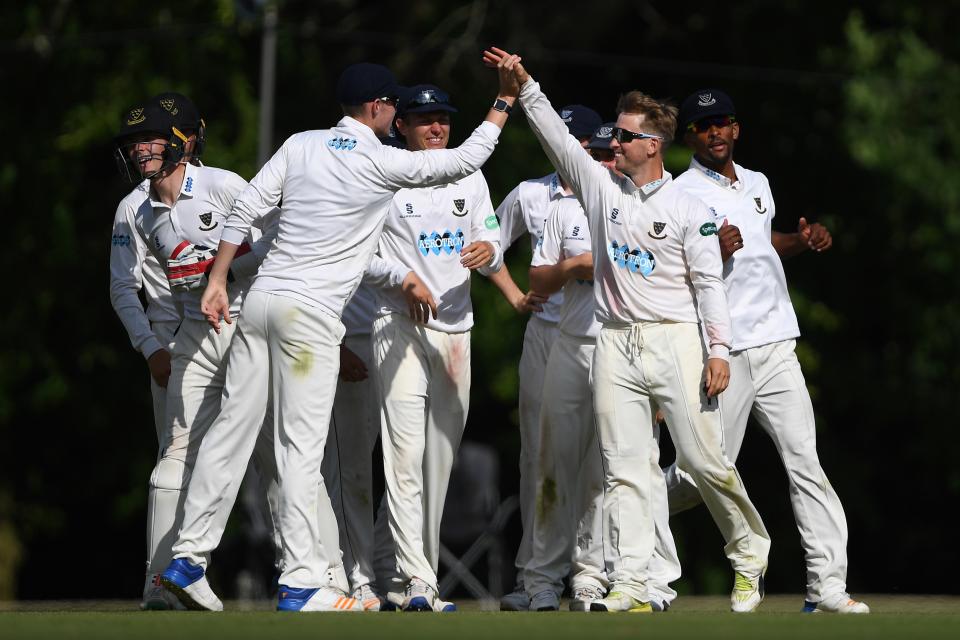 Sussex men's second eleven fixtures for 2019 have now been confirmed.
The season commences at Blackstone Academy Ground sponsored by Hurstpierpoint College when a Sussex and Kent composite team take on Middlesex in a three-day friendly from Monday 8th April and then a one-day friendly on Thursday 11th April.
The competitive season starts the following Wednesday 17th April with a trip to the Ageas Bowl for a Second Eleven Trophy encounter with Hampshire. The two sides will warm up for that fixture with a 50-over friendly the day before.
Four more Second Eleven Trophy matches follow, before Sussex's Second Eleven Championship campaign gets underway against Somerset on Tuesday 7th May at Blackstone.
Sussex's final group game of the one-day Trophy is away against MCC Young Cricketers on Monday 13th May at Shenley CC. The semi-finals and finals of that competition take place on Friday 21st June and Thursday 27th June respectively at venues to be confirmed.
Sussex's start the Second Eleven T20 competition with back-to-back matches against Essex at Billericay CC on Thursday 27th June, although if either side make it to the Trophy final, these matches will be rescheduled.
The T20 Finals Day takes place on Thursday 15th August, with Arundel Castle the host venue once again.
The Second Eleven Championship final will take place between Tuesday 3rd September and Thursday 5th September at a venue to be confirmed.
Sussex's final match of the 2019 season is a three-day friendly against Yorkshire at The 1st Central County Ground starting on Tuesday 10th September.
Sussex 2019 2nd XI Fixtures 
Kent/Sussex Xl v Middlesex         Monday 8th-Wednesday 10th April       11am        3 day SEF (second eleven friendly) (H) Blackstone
Kent/Sussex Xl v Middlesex         Thursday 11th April                               11am         1 day SEF, 50 over                          (H) Blackstone
Hants v Sussex                             Tuesday 16th April                               11am         1 day SEF, 50 over                           (A) Ageas Bowl
Hants v Sussex                             Wednesday 17th April                          11am         1 day SET (second eleven trophy)  (A) Ageas Bowl
Sussex v Kent                               Monday 22nd April                               11am         1 day SET                                        (H) Preston Nomads
Sussex v Gloucs                            Tuesday 23rd April                              11am         1 day SET                                        (H) Preston Nomads
Surrey v Sussex                             Friday 3rd May                                    11am         1 day SET                                        (A) LSE New Malden
Sussex v Somerset                        Monday 6th May                                  11am        1 day SET                                         (H) Blackstone
Sussex v Somerset                        Tuesday 7th – Thursday 9th May        11am        3 day SEC (second eleven champ.) (H) Blackstone
MCC YC v Sussex                         Monday 13th May                                11am        1 day SET                                         (A) Shenley CC
MCC YC v Sussex                         Tuesday 14th – Thursday 9th May       11am        3 day SEC                                        (A) High Wycombe CC
Middlesex v Sussex                       Tuesday 28th – Thursday 30th May     11am        3 day SEC                                        (A) Uxbridge CC
Sussex v Surrey                             Tuesday 4th – Thursday 6th                11am        3 day SEC                                        (H) Preston Nomads
Sussex v Lancashire                      Tuesday 11th – Thursday 13th June    11am       3 day SEF                                         (H) Horsham
Tbc                                                 Friday 21st June                                    11am      SET Semi Finals                               TBC
Essex v Sussex                              Monday 24th – Wednesday 26th June  11am      3 day SEC                                         (A) Billericay CC
Essex v Sussex                              Thursday 27th June                               11.30am & 3pm       2 x SET20                        (A) Billericay CC
Tbc                                                 Thursday 27th June                                11am      SET Final                                          TBC (if either Essex or Sussex are involved in the final, the 2 x T20's above will be re-scheduled)
Sussex v Glamorgan                      Monday 1st July                                     11.30am & 3pm      2 x SET20                         (H) Horsham
Sussex v Glamorgan                      Tuesday 2nd – Thursday 4th July          11am       3 day SEC                                        (H) Horsham
Kent v Sussex                                 Monday 15th – Wednesday 17th July   11am       3 day SEC                                         (A) Beckenham CC
Kent v Sussex                                 Thursday 18th July                                11.30am & 3pm       2 x SET20                         (A) Beckenham CC
Sussex v Hants                               Monday 22nd July                                 11.30am & 3pm       2 x SET20                         (H) The 1st Central County Ground
Middlesex v Sussex                        Tuesday 30th July                                 11,30am & 3pm       2 x SET20                          (A) Radlett CC
Sussex v Surrey                              Monday 5th August                               11.30am & 3pm      2 x SET20                          (H) Blackstone
Sussex v Gloucs                             Tuesday 6th – Thursday 8th August      11am       3 day SEC                                         (H) Blackstone
Hants v Sussex                               Monday 12th – Wednesday 14th Aug    11am      3 day SEC                                         (A) Ageas Bowl
Tbc                                                  Thursday 15th                                        11.30am & 3pm    T20 finals day                     Arundel Castle
Sussex v Lancashire                       Tuesday 27th August                             11.30am & 3pm    2 x SEFT20 (friendly)         (H) East Grinstead
Leics v Sussex                                Monday 2nd – Wednesday 4th Sept      10.30am  3 day SEF                                       (A) Kibworth CC
Tbc                                                  Tuesday 3rd – Thursday 5th Sept          10.30am  SEC Final                                        TBC (if either Leics or Sussex are involved in the final this SEF above will be re-scheduled)
Sussex v Yorkshire                          Tuesday 10th – Thursday 12th Sept     10.30am  3 day SEF                                         (H) The 1st Central County Ground