>
CURRENT MATCH: Sussex CCC vs Glamorgan
Performances of the Year: Laurie Evans 134* vs. Kent in RLODC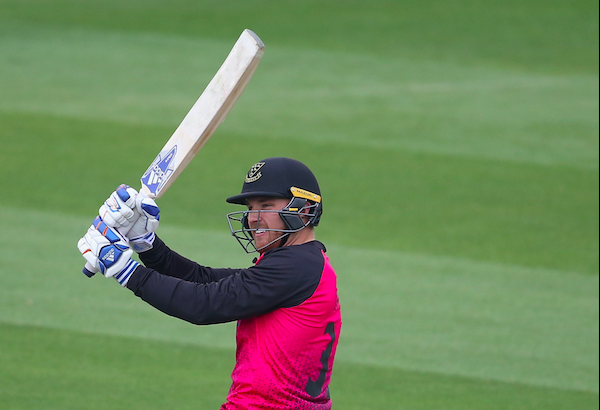 Canterbury, Friday 5th May. Sussex Sharks had made a decent start in chasing an imposing 332 for victory against Kent in the Royal London One-Day Cup. At 122-1 after 20 overs, with Luke Wright and Harry Finch going well, Sussex were on course.
Two wickets in ten balls changed the complexion of the match significantly, however. Sussex required another 209 runs at a rate nearing eight-an-over, with much of their top order back in the dressing room.
Enter Laurie Evans. The 29-year-old had signed for Sussex the previous December, and came with a reputation for his white ball skills in particular. In just his seventh appearance for the club, the pressure was on the former Surrey and Warwickshire man to guide Sussex towards their target.
Over the subsequent hour and twenty-one minutes, Laurie didn't so much guide as hurl the side across the line. In an 86-ball innings containing nine fours and eight sixes, he wrenched the game out of the hands of a increasingly disbelieving Kent bowling attack in the most brutal fashion possible.
As the sixes rained down on a silenced home crowd, the cheering was left to Harry Finch whose fist-pumping out in the middle became increasingly exuberant with every Evans boundary. Laurie just stood back, hand-on-hip and surveyed the carnage he had inflicted.
Finch himself played a vital supporting role, and when he was dismissed for 80 Sussex required just two more. David Wiese knocked off the first, giving a Laurie a glance that said: "I dare ya!" as they crossed. The centurion was satisfied with his day's work, however, and calmly pushed a single down the ground to finish unbeaten on 134 off 86 balls secure a famous win with more than two overs to spare. 
As far as first one-day hundreds of your career go, this was pretty spectacular. Being the fastest century (73 balls) from a Sussex number five and the fifth fastest in Sussex's history, it also propelled Laurie into the club's record books. He would go on to be our top-scorer in this year's competition, averaging 57.8 in the process.