MacLeod can't wait for quarter-final chance after vital innings at Chelmsford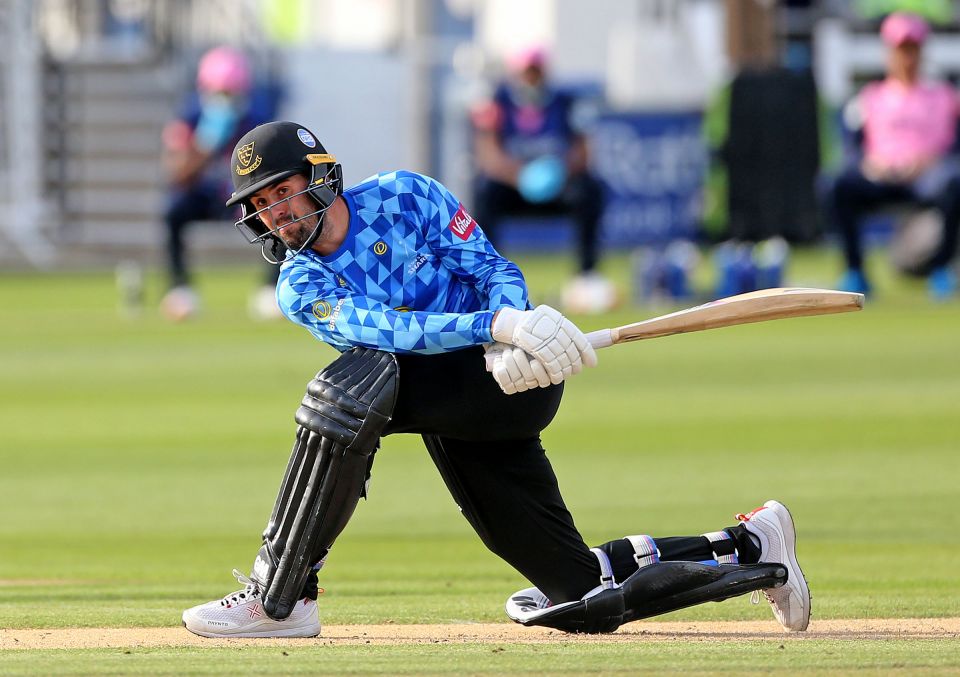 When he joined Sussex, Scotland international Calum MacLeod spoke of his excitement to play for the Sharks this summer, and he now can't wait for his quarter-final chance. 
The experienced batsman has looked impressive since making his debut against Hampshire at The Ageas Bowl, but by his own admission, has found things frustrating at times. 
Despite getting himself in and looking assured with the bat against the likes of Kent Spitfires and Middlesex, it was against Essex Eagles on Sunday where he showed his real ability to score a vital 40 and guide Luke Wright's side into the Vitality Blast knockout stages.
"We got ourselves into a bit of a hole against Essex on Sunday with the bat," MacLeod told Adrian Harms, "but the way Salty started meant it was always a manageable chase.
"He obviously would have liked to kick on and get a big score but he did the bulk of the work through the powerplay to get us on our way, and then me and George [Garton] were able to establish a partnership.
"We only needed almost a run a ball when we came together, but it's easier said than done to do that – especially the way T20 cricket is played these days.
"You know when you're coming up against two quality spinners on a wicket that's offering something, it's going to be tough. We just didn't want to give them a sniff.
"Once we did the hard work of getting in and settled, I think it was our responsibility to go on and try and put a match-winning score on the board.
"It was Garts again doing a brilliant job but it was nice to get some runs too.
"It helped to bat with a player like him who is clearly brimming with confidence right now – I think you can see that in all facets of his game.
"Obviously he played an outstanding knock against Middlesex and then against Essex, a completely different innings but another excellent one.
"The way he started as well, with two wickets in the first over, and the way he fields – he's full of confidence and it's exciting to see a player who's got all three facets. It will be good to see how his cricket goes.
"I've played a lot of T20 cricket and haven't seen a double-wicket maiden like his in the first over! It wasn't even as if the Essex batsmen played bad shots, it was just really good, high quality bowling.
"That's the exciting thing about this team. You've got four or five real quality bowlers and they've managed to step up at different points when needed and others have been away.
"It was nice to get some runs and contribute as well. It's been a touch frustrating so far because I think it's been just around the corner for me.
"I've had a couple of knocks where I felt I've been in but not capitalised on that, and they're the ones which frustrate you the most as a batter.
"To spend some time out in the middle against Essex and play not a 'typical' T20 innings by using my experience a bit more probably helped as I was able to bat for a longer period.
"I said when I came down to Sussex – to get the opportunity to play for a white-ball team like this, with this sort of pedigree… it was one I was never going to turn down and I'm happy to have helped on Sunday.
"To now have the opportunity to play in a quarter-final, it's brilliant."