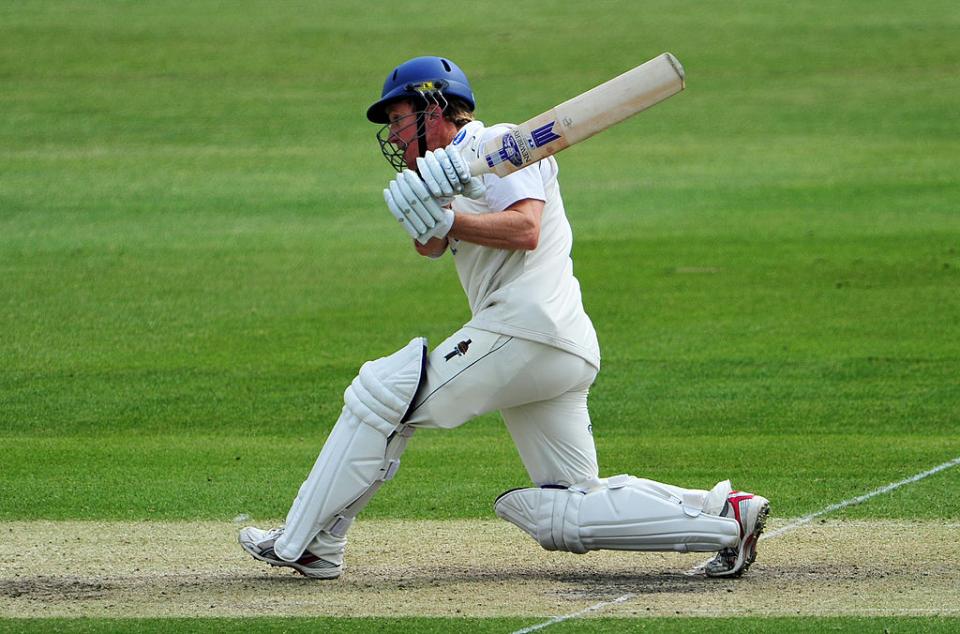 No one could dispute the importance of Mushtaq Ahmed to the most successful period in Sussex's history. Three Championships would have been impossible without the leg-spinner's consistent contributions but not far behind in terms of his enduring influence on Sussex's golden decade is Murray Goodwin.
Born in Zimbabwe but raised in Western Australia, Goodwin had already been at the club for two years when Mushtaq arrived in 2003 to propel them to greatness. And Goodwin's name is written in Sussex folklore forever, of course, because it was he who hit the 'winning' runs when the Championship was secured for the first time in 2003 and Goodwin went on to make 336 not out, then the highest score in Sussex's first-class history. It was a record he then broke in 2009 when, fuelled by Guinness and flu remedies, he scored 344 not out against Somerset and famously remarked afterwards that 'staying out there seemed a good way of sweating out my cold'.
In 2012 Goodwin left the county after 12 seasons and more than 20,000 runs. During that period there have been fewer more consistent batsmen throughout the county game, home-grown, overseas or Kolpak, as Goodwin has been classified for the last eight years.
His is a phenomenal record. At the start of 2012 he had scored over 22,000 runs for Sussex in all formats including 48 Championship hundreds placing him sixth on the all-time list. Only Chris Adams (11) has made more List A centuries than his 10 in an aggregate of 6,312 runs in 50 and 40 overs cricket while he is the only Sussex player to score two centuries in Twenty20 cricket, the most recent in 2011 coming at the age of 38 when most batsmen of his age have long since given up the shortest format of the game.
But when the cognoscenti in the deckchairs at Hove start their rheumy-eyed reminiscences about what was Goodwin's best ever knock that record-breaker on a shirt-front at Taunton rarely gets a mention. Instead, after remembering the pull-shot off Phil DeFreitas which won the Championship for the first time, the debate invariably turns to an unbeaten 87 against Nottinghamshire in 2008 which almost single-handedly ensured that Chris Adams' reign as the most successful captain in Sussex's history ended with yet another trophy, the Pro40 title which Goodwin sealed with a six off the last ball at Trent Bridge, his favourite English venue away from Hove. "In the circumstances, I don't think I have ever played a better innings for Sussex," he believes.
Back in 2008 English cricket was undergoing another period of painful introspection over the make-up of the domestic fixture-list. The counties had voted to bring in a second Twenty20 competition so something had to give in a congested calendar and the Pro40, which had been played under the auspices of various sponsors since the John Player County League started in 1969, was ripe for the chop even though counties had reported increased attendances for 40 overs fixtures, mainly from Twenty20 audiences exploring a slightly longer version of the game.
At the start of the 2008 season the ECB outlined the conclusions of the Schofield Report – the latest think-tank led by Ken Schofield, the head honcho of the European Golf Tour, and commissioned to look into the fixture list. Its recommendations were batted back and forth between Lord's and the shires before being quietly shelved but not after they announced that the Pro40 would be shelved after 2009 in favour of a second Twenty20 competition.
The governing body's research (mostly carried out at Twenty20 games) revealed an appetite from the public for more of the same. But a year later there was no second Twenty20 and it was 50 overs rather than 40 overs cricket which bit the dust, even though that was the duration of limited-overs matches played at international level.
Goodwin says he and the rest of his team-mates were fairly diffident about the one-day format. "We all thought and still do that there is too much cricket played but most of us didn't prefer 50 or 40 overs. I liked it because it's less fielding time but ten overs to be honest didn't make a huge difference and being good over 50 overs didn't always mean you'd be competitive over 40." To prove his point, Sussex had finished bottom of their group in the Friends Provident Trophy in 2008, with just one win in eight games two years after essentially the same group of players had won the final at Lord's. Their performances in the Twenty20 Cup were not much better either with eight defeats from ten games in 2008 coming a year after they had lost in the semi-finals to Kent.
In 2007 Adams led Sussex to their third Championship in five years but there was a sense the following season that their golden era was quietly coming to an end. After hobbling through 33 overs against Lancashire in a Championship game at Hove at the beginning of July, Mushtaq Ahmed underwent knee surgery for the second time in two months and after making one more appearance, against the same county at Old Trafford, in early August he called it a day.
Adams probably would have stepped down as captain had Lancashire rather than his side won the Championship on that dramatic final day in 2007. Instead he stayed on and was able to step down on his terms and with another trophy in his hands. But he had made up his mind to give up the captaincy in June in favour of Mike Yardy and finally made the announcement a few minutes after Goodwin's stupendous innings at Trent Bridge. "To be honest what happened after that day is a bit of a blur," said Goodwin. "If Grizz announced his retirement I don't remember it – I probably wasn't listening anyway!"
In the Championship, Sussex won just two four-day games and only stayed up by five points. Only one batsman passed 1,000 runs – the ever-reliable Goodwin who, at 35, still felt at the peak of his powers. He finished the four-day season with 1,343 runs at 58.39 including six hundreds – the same number as the rest of the 19 players put together.
"I think it helped that until 2007 I played competitively in Australia as well during the winter before coming to Sussex," said Goodwin. "It made sure the competitive edge was still there when I came over to England and 2007 was my last year playing in Australia at State level. "Those years from 2003 to 2008 were probably my peak years for Sussex. Since then I've had to become even more self-motivated which has been hard work, but I have always loved being among the guys and trying to do well for them and for myself."
When Sussex started their Pro40 campaign at Arundel against Somerset on July 30 it wasn't without any great expectations of challenging for the title. Their perilous position in the Championship was the priority but on a blissfully sunny Sunday afternoon a crowd of 5,000 witnessed what would have been, in any other year, the best one-day innings of the season as Matt Prior scored 137 off 123 balls to lead Sussex to their target of 243 with two balls to spare.
With only eight games in the competition there was little room for error but a fortnight later Sussex got a fortunate break when the umpires abandoned the game at Horsham against Worcestershire because of rain. Three more balls would have brought a result: a Worcestershire victory unless Sussex had scored 11 runs. Only Luke Wright, whose 4-56 were his best figures in the competition for four years, could consider it a good day.
Two days later the game against Gloucestershire at Cheltenham was abandoned without a ball bowled. Played 3, Won 1. There was even less margin for error now.
Sussex headed straight to Old Trafford to start Mushtaq's last Championship game the following day. Fortunately, a final-day washout meant their onward journey to Durham for the next Pro40 game the following day was conducted at a more leisurely pace. Their pursuit of a revised target of 224 from 38 overs was supervised by Prior who made 79 from 83 balls. Even then, with one run needed off three balls, Sussex only got home with a scrambled single off the final delivery.
Halfway through the group and Goodwin had only contributed 30 runs and his form did not improve in Sussex's next game where he made three as Sussex were hammered by Hampshire by 66 runs. Fortunately, none of the other eight counties were taking a stranglehold on the division but the points gained from those two no-results effectively meant another win. Victories in their next two matches, both at Hove, would keep them in the hunt for honours.
Goodwin made his fourth half-century of the season in one-day cricket against Lancashire under the Hove lights when his unbeaten 58 on a turgidly slow surface guided Sussex to a four-wicket win. Later that week he scored an unbeaten hundred against Nottinghamshire in the Championship. "I have tended to finish the season strongly and that was one of those years. Things started to go quite well."
Four counties had realistic ambitions of winning the Pro40 as the penultimate round of fixtures began. On September 10 Nottinghamshire blew the chance to go clear at the top when they lost by one run at Trent Bridge to already relegated Lancashire. The following evening Sussex knew that victory over Middlesex would set up a last-day title decider against the Outlaws. By now the Sussex bowlers knew how to bowl on the slow pitches predominant at Hove. They dismissed Middlesex for 165 and Goodwin then produced another gem of an innings – 54 not out from 72 balls – to ease them to a five-wicket win with 22 balls to spare.
The First Division table was so tight that Durham began their final game in danger of finishing third from bottom and facing a play-off. Instead they beat Gloucestershire and ended up third. But the game at Trent Bridge was effectively a final in itself – winner takes all.
The omens were mixed. Two years earlier Sussex had gone to Nottingham needing a win to claim the 40 overs title and lost. At least they won the Championship game a few days later and with it their second title. But if there was any pre-match nerves among Adams' men they certainly didn't affect Goodwin. Trent Bridge? Nottingham? He couldn't get enough of the place.
On his first visit there in 2000, in what turned out to be his 19th and last Test appearance, Goodwin had made a chanceless 148 not out and his third Test hundred for Zimbabwe against an England attack comprising Andy Caddick, Darren Gough, ex-Sussex seamer Ed Giddins and Chris Schofield (no relation to Ken) and Andrew Flintoff. Raised on the bouncy pitches of Perth, Goodwin cut and pulled with impunity but rain robbed Zimbabwe of what would have been a famous victory.
"We were in the driving seat and I made some runs," remembers Goodwin with typical modesty. "But there were a lot of issues at the time in Zimbabwean cricket although I didn't think at the time it would be my last Test. I got my name on the honours board in the pavilion at Trent Bridge alongside some great players. Whenever I went back I always checked it was still there and who the most recent additions to the board were."
Nottingham, with its big student population, is always a popular place with visiting teams. "It's a place that has always had a good feel to it for me. Most of the Notts' lads were quite sociable down the years and I loved going out there for a few beers."
Trent Bridge itself soon grew in appeal. In 2001 – his first season for Sussex – Goodwin made 115 in the first innings and then a maiden double-hundred in the second as he and Richard Montgomerie put on 372 for the first wicket, the fourth-highest partnership in the county's history. Between 2001 and 2011 Goodwin has scored 1,025 runs in all competitions at Trent Bridge at an average of 73.21, including five hundreds.
Goodwin was also a batsman who tended to get better as the season unfolded. Arriving in England's Spring chill from the warmth of Perth was something he never really got used to during his long career with Sussex. "I have always needed a few innings to get going, to get accustomed to the light as much as anything else," he admits.  Goodwin has scored 22 of his hundreds in all formats for Sussex in August and September.
He arrived at Trent Bridge that bright Sunday morning of September 14 in good form. As well as those two half-centuries which had revived his side's Pro40 hopes he had scored Championship hundreds in two of his previous four games.
What he, Adams and the rest of the Sussex team discovered when they checked the wicket on their way to practice was not a surprise. "It was a used pitch, which in itself was not unusual at that time of the year, but it was very dry. We knew it would turn and we felt a score of around 240 would be competitive.
A sunny, warm day had persuaded around 200 Sussex supporters to make the trip to Nottingham in a crowd of around 6,000. Most, of course, were there to see their side try and win their first one-day title for 19 years and when it was announced that Chris Read had won the toss and decided to bat there was even a ripple of applause from the members' area. "It wasn't going to decide the game, but it was definitely a good toss to win," remembered Goodwin.
With Mushtaq hobbling off into retirement Sussex recruited another Pakistani for the final few weeks of the season. Mohammad Sami was not a leg-spinner. Instead he bowled quickly and could swing the ball both ways. "He gave the attack some bite," said Goodwin.
Sami shared the new ball with James Kirtley and soon made a breakthrough when he bowled Graeme Swann, who was Nottinghamshire's pinch-hitter, for a duck. Kirtley had Mark Wagh caught in the covers with the score on 19 but Will Jefferson rebuilt the innings with Samit Patel in a stand of 46 for the third wicket. Patel, though, had a let-off on eight when he top-edged a pull off Kirtley towards Sami at long leg. The fielder seemed to lose the flight of the ball in the sun and it dropped a yard short of him. "It wasn't an easy chance by any means but he didn't seem to pick it up at all," said Goodwin.
It was to prove a costly miss. Patel, also reprieved on 59 when Mike Yardy shelled a sharp return catch, went on to make 78 from 82 balls and added 82 in 16 overs with the South African import Ashwell Prince for the fourth wicket before Rory Hamilton-Brown, who was getting some sharp turn with his off breaks, stalled the momentum by dismissing both batsmen in successive overs.
Nottinghamshire regrouped and scored 46 runs in the last five overs, Andre Adams swatting the last ball of the innings off Kirtley into the pavilion for six. Sussex would need to score 227, which was gettable but not easy given that Swann and Patel offered a greater threat on a turning pitch than the Sussex spinners. 
The reply didn't start well. Sussex would have wanted Matt Prior, opening with Yardy, and No.3 Luke Wright to take advantage of a hard ball and the fielding restrictions but both were back in the dressing room with 32 runs on the board as Darren Pattinson struck twice.
Rebuilding was required and Yardy, who had made his England ODI debut on the same ground two years earlier, and Adams took the score to 87 in the space of ten overs before Patel bowled Yardy for 53. By now Swann and Patel were bowling in tandem – off breaks and slow left-arm - and as the pressure to maintain a scoring rate of 5.57 per over mounted Goodwin walked out to join his captain.
"It wasn't looking good. We were behind the rate and the ball was turning for Swann and Patel a lot," said Goodwin. "I remember saying to Chris Read that whatever happens we'll still have a good time tonight, we will still have a beer. He replied that we would do well to win it from the position we were in at that stage which was quite a confident thing to say because we were only three wickets down."
Soon, though, Sussex were eight wickets down. Adams, trying to force off the back foot, was bowled by Swann, Dwayne Smith was bowled through the gate, head in the air, by Swann while both Carl Hopkinson and Hamilton-Brown were beaten in the flight and stumped by at least a yard. When Robin Martin-Jenkins mis-timed a pull and was caught at mid-on Sussex had gone from 105-3 to 130-8 and Swann and Patel had helped themselves to a share of six wickets.
"What was poor that day was how we batted against the turning ball," remembers Goodwin. "The annoying thing was that we had some good players of spin in that side but it is amazing what pressure does. We just didn't pick the right balls to attack.
"I was quite relaxed, though, for some reason, there was no pressure really when we were eight down. We were losing wickets but I always felt that someone would stay with me to form a partnership that might get us going again."
"But you do need luck as well and I think I had some that day. I played a couple of sweeps that got top-edges which fell short of fielders but I was just trying to be really selective, especially against Swann and Patel. I had to take on the responsibility and make sure I didn't lose my wicket and hopefully build a partnership with someone.
"I was just hoping the spinners would bowl out before we'd lost to be honest because I felt more confident that our tail-end guys would do better facing the seamers. Mark Ealham came back on and we got into him a bit and although Pattinson and Shreck were good bowlers they weren't going to get you out through sheer speed."
No.10 Sami walked out with exactly ten overs to go and 97 runs needed. Sami was not the worst No.10 in the world. In 121 international appearances for Pakistan he had made 49 in a Test and 46 in an ODI so he had ability. The problem Goodwin faced was simply one of communication.
"Sami's English wasn't the best. He understood basic stuff and I imagine Mushy probably taught him a few phrases but it wasn't easy. When he came in all I kept telling him was to hit straight. I just told him that if the ball was there to hit you hit it – he was quite a strong guy and he had a good eye. But I said if it's straight you make sure you don't go across the line and risk being an lbw candidate. Did he understand? I don't think so but he kept nodding so maybe he did."
Sussex's cause, of course, must have appeared utterly hopeless to the supporters in the ground and those watching live on TV at home but while Goodwin, a rescuer of so many seemingly lost causes over the years, was there hope sprung eternal. In New York City, two Sussex supporters, Paul Moran and Jon Filby, were following the game on Radio Nottingham's internet coverage.
Jon was receiving texts from his brother Bill in the ground. "It didn't look good and when the eighth wicket went down Jon said 'that's it, finished. Let's go.'" Central Park and a Talking Heads concert in the New York sunshine beckoned. "Then we thought 'Oh well it's Muzza. Let's just see listen to one more over, see what happens and then we will leave anyway.'"
Sami hit a six off Swann and with Goodwin starting to warm to his task slowly but surely the partnership built. "At eight wickets down I got the sense they had taken their foot off the gas," remembered Goodwin. "For five or six overs they relaxed and we saw off Patel and Swann and the seamers came back on. I hit Ealham and Pattinson for six and suddenly we had got down to the last four overs needing 41 runs to win and that was probably the first point at which I thought we might have a chance. It's happened to me so many times in my career. Once you lose that intensity as a fielding side when you think a match is done and dusted it can be very hard to pick it back up again.
"Once Sami settled in he looked okay. He had a bit of luck too. He could have chopped on a couple of times against Swann and he edged it over the inner field a couple of times. I just kept walking down the pitch telling him to hit straight and I think the message had started to get through. By then when I asked him where he was going to hit the ball he just kept saying 'straight, straight.' It was the answer I was hoping for."
Sussex needed 26 when the penultimate over began and got ten of them off Ealham. They needed 16 off the final over, which was entrusted to the tall Cornishman Shreck from the Radcliffe Road End for the first time in the competition that season. Nottinghamshire were still favourites but the batsmen had the short leg-side boundary on the Fox Road side of Trent Bridge to attack.
Across the Atlantic they were feeling the tension too. "Sixteen runs from six balls to be delivered by the up until now parsimonious Shreck was still a big ask," remembered Paul Moran. "Jon was more anxious than a vasectomy patient who'd just noticed the surgeon was cross-eyed. The internet was costing us an outrageous $12.95 an hour but Jon's infectious enthusiasm had transformed me into a big Sussex fan for the day."
For the Sussex players gathered on the dressing-room balcony it was hard to know whether to believe or accept that a brave effort was probably going to fall short. "I'd written my 'well done Nottinghamshire' speech in my head," admitted Adams.
Goodwin, though, seemed to be relishing the situation. "There was a short boundary on one side and that was massively in their mind and I was happy that Shreck was bowling too because Pattinson still had an over left and I thought he would have been a better bet. But Shreck had done that job all season for them in one-day cricket so it was horses for courses I suppose. Look, 16 runs was still a lot to get but I just had a feeling that we were on a roll, that momentum was with us and if the luck held we might just pull it off."
Goodwin, on strike, clipped the first ball backward of square for four but could only take a single to long on off the second. "I hit that one straight out of the guts but it went straight to the fielder on the boundary." Sami was now on strike. 'Play straight' urged his partner in another brief mid-pitch pow-wow but the force was clearly with Sami. He went for broke and a big outside edge flew past the diving Read and down to the third-man boundary. Nine off three balls scored, seven to win. A single off the fourth delivery got the equation down to six from two but Goodwin knew that if  the scores were tied and Sussex were level on points at the top they would take the title by dint of having won more games.
Goodwin hit the fifth ball to the deep cover boundary. "Ashwell Prince was fielding and Sami should have been run out going for the second run but Prince was right on the rope instead of being ten yards in to stop twos, especially with me on strike, and he threw it to my end. If he'd aimed it at the non-striker's end Sami would have been a gonner."
Three to win, although the denouement was still a few moments away as Read and Shreck gathered in mid-pitch to discuss their options. "I was trying to hear what they were saying but Sami was well pumped up by now and kept talking to me so I told him to shut up so I could try and pick up what they were discussing. I remember Shreck saying 'what if he laps me.' Fine leg was up and it was a short boundary so he was worried I might go across my stumps and try to clip him fine.
"So I guessed he would go offside because he was concerned about being lapped. I just wanted to hit it straight which was my strength. When he ran in I went deep into my crease towards off stump because I felt if he missed his yorker I could squeeze it past point for four or hit it back past him.
"I swung but I didn't quite get it in the screws. I hit it okay but it wasn't one where I knew as soon as I'd hit it that it would go for six. I looked over towards the long on boundary and saw Andre Adams put his hands up to catch it and then just as quickly he put them down again as if to say 'that's gone' and it ended up about ten yards over the rope. For a second I thought I'd hit it down his throat and then in the next second it was 'no, it's gone!' I couldn't believe how far I had hit it to be honest."
Neither could anyone else. With the ball in the air and seemingly heading straight to Adams the Nottinghamshire fans were on their feet. Seconds later Goodwin was being lifted off his feet by Sami, whose 32 not out off 30 balls had helped make the seemingly impossible possible. A six off the last ball had won the game and Sussex were champions in the most dramatic way possible.
Goodwin raised his hands, bat in one hand, helmet in the other and briefly took it all in. 87 runs, 64 balls, three sixes, six fours. "I turned around and our dressing room was going absolutely wild and the next thing I knew our Academy Director Keith Greenfield, who had come up to watch, was running onto the pitch and giving me a big hug and kiss. Sami just kept saying 'Unbelievable, unbelievable, unbelievable.'" For a man of few words, he had summed up a remarkable day pretty well.
Over in New York the BBC Radio Nottingham commentators were describing Shreck's run up to the crease to deliver the final ball. Then silence. In the building excitement, Messrs. Moran and Filby had failed to notice that their hour of internet connection was running out. The line went dead just as Shreck was leaping into his delivery stride.
"Nooooooooooooooooooo!" said Paul. "'Quick Jon, where's your phone?' He didn't need to search for it…it was ringing. Jon switched on the speakerphone, it was his brother Bill. There was cheering coming down the line. Muzza had done it with a six smashed over long on. Story-book stuff."
The trophy presented and champagne sprayed the Sussex players returned to their dressing room to continue the celebrations and absorb the news that Adams was stepping down as captain. But the combination of what he had achieved and where he had achieved it meant Goodwin was soon partying the night away in Nottingham.
"We were staying over because we were travelling onto a Championship game up at Durham. All I had eaten that day was breakfast and a piece of fruit after the warm-ups which was not normal for me, although I don't like playing with a full stomach.
"I had a big night but I paid for it. The aftermath came a few days later when I got sick and had to miss a day of the Durham game recovering in bed."
A year later Sussex retained their crown and once again the drama unfolded on the final day. Victory at Worcester would have given them the title without having to rely on other results but Sussex rarely do straightforward, as their supporters will attest.
Sure enough Sussex, with only six survivors from Trent Bridge, made a mess of a relatively straightforward target of 215 and were bowled out for 165. The game over, the big screen at New Road began transmitting live pictures of Durham's pursuit of 243 to beat Somerset and keep the title at Hove.
"We had packed up and were getting ready to leave when someone said that Durham still had a chance. It was a bit surreal, standing on the balcony there and watching it with all our supporters. We were lucky. We didn't play smart cricket, underestimated Worcestershire and played some silly shots. But Durham had an unbelievable win against Somerset."
Back-to-back champions but nothing will ever beat the drama of 2008. "I have been fortunate to play some good one-day innings in my career and not just for Sussex, but that was one of the best. Of course I didn't think we could win it from the position we were in and if I'm honest I under-estimated Sami's capabilities as a batsman. He did a wonderful job.
"People still come up to me now and talk about that day. I will never forget it and I hope Sami won't either. He was gone again a few weeks after that game but I hope he still remembers it like I do."
This piece originally featured in Bruce Talbot's fantastic book, Sussex CCC Match of My Life. Bruce has also worked with former Sussex captain Ian Gould on his autobiography, Gunner, which is out now and published by Pitch (£19.99).