CURRENT MATCH: Sussex CCC vs Middlesex
Exclusive Danni Wyatt interview: "This is the best time to be reaching your peak"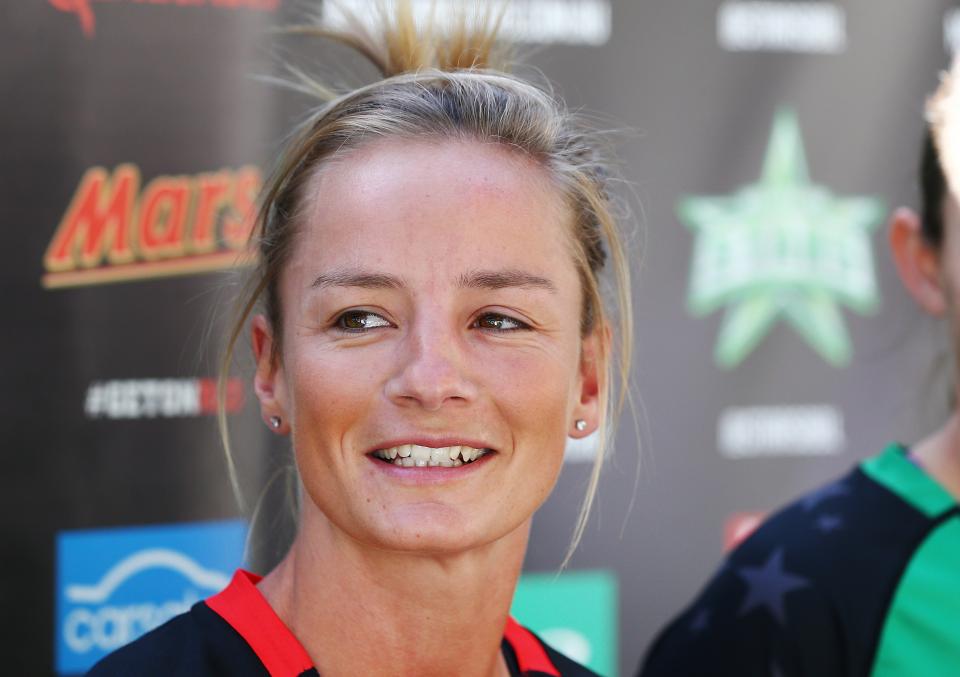 When we phone Danni Wyatt in Sydney, it's approaching 11pm and she has just got back to her hotel room after a team dinner. A couple of hours before that, she was stepping off a plane from Melbourne ahead of a huge game of cricket on Saturday. Many people might be a bit tired and grouchy and keen to get some rest, but not Danni. She's on upbeat and engaging form.
The Sussex and England all-rounder has a reputation for her positive outlook on life, but it's safe to say that the double whammy of helping her Melbourne Renegades side into their first ever Big Bash semi-final and then finding out she'd be able to stay in Australia to play in that match has maintained her sunny disposition even at the end of a long day of travelling.
When she woke up last Saturday, Danni was expecting to follow strict instructions from the England camp and be flying home on Monday regardless of whether the Renegades made it out of the group. But then later that day, the Renegades beat Hobart Hurricanes to book their place in that maiden semi-final.
Danni explains what happened next: "Before I came out to the Big Bash, Robbo [Mark Robinson, current England women and former Sussex men's head coach] said to all the English girls that were out here playing that we wouldn't be able to stay and play in the finals if our team made it due to us having a lot of time away at the World T20 before this.
"We fly out to India in a few weeks' time and then we go straight to Sri Lanka, so we're away for another seven weeks. So, Robbo thought that we'd want to spend time at home, which is crucial.
"But l spoke to the Renegades coach, Tim Coil and then to Mark and it was decided I could stay for the semi. It's only another week, I cope quite well with being away and I love it in Australia, so they let me stay."
After three seasons with the Renegades and a few more playing for Victoria in state cricket, Melbourne is something of a second home for Danni, anyway: "Whenever I land in Melbourne, I always get that special feeling of kind of being at home because I've been here that many times.
"I've got a lot of close friends over here now and someone from my family always tries to come and watch me out here now which is really nice to have, especially when you're away for that long. It's nice to switch off and go and spend some time with friends and away from cricket."
There's also company from back home. Danni's Sussex and England teammate Georgia Elwiss has also been in Melbourne. She's been playing for Melbourne's other Big Bash outfit, the Stars. Despite being rivals on the pitch, the pair have enjoyed each other's company away from the game.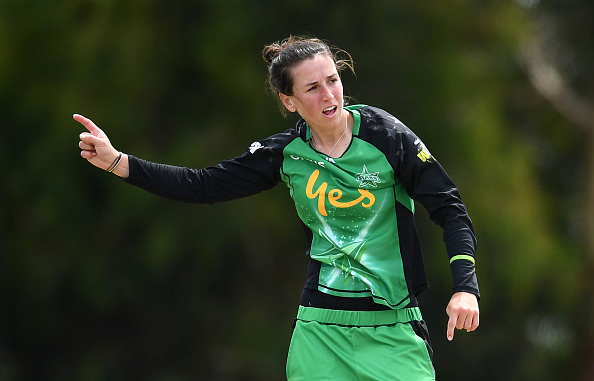 Danni's England and Sussex teammate, Georgia Elwiss, plays for local rivals Melbourne Stars in the Big Bash
"I managed to see Georgia quite a lot," Danni says, "she was only down the road from me. Whenever she was free, she'd message me and then we'd go out for dinner or take the bikes around Melbourne.
"We actually spent Christmas Day together. We went and had a barbecue along the Yarra River. It was a good laugh. We Facetimed with family when they woke up, put our Christmas hats on, and we did our Christmas run.
"It's tradition with England that everyone in the squad, including players and management, go on a Christmas run. You have to take a selfie and post it on the WhatsApp group for proof that you've done it."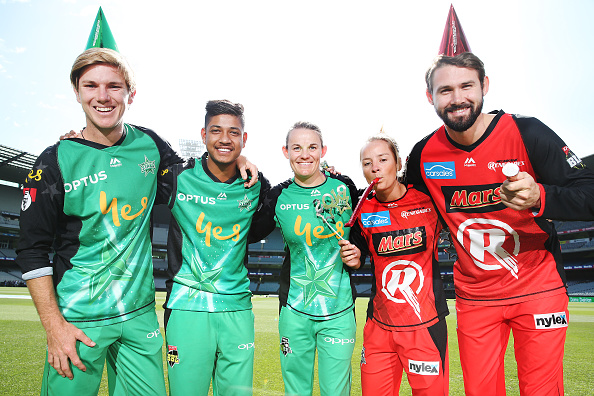 Danni has become a familiar face in Melbourne
And then there's the city itself. "Melbourne's got everything," Danni enthuses, "I love going out for a nice coffee. Melbourne's coffee's the best, the people are so friendly and the weather's amazing. Then there's the Big Bash; what a tournament to play in."
It's easy to see why Robinson felt that an extra week Down Under wouldn't do one of his star players any harm then, especially when she's been enjoying such good form with the bat.
The 27-year-old's individual contributions and her productive opening partnership with Australian international Sophie Molineux in this year's WBBL have been crucial to the Renegades' qualification for Saturday's semi-final against reigning champions Sydney Sixers: "I've scored over 350 runs, so I'll take that, and there's four of us that have scored over 200 runs."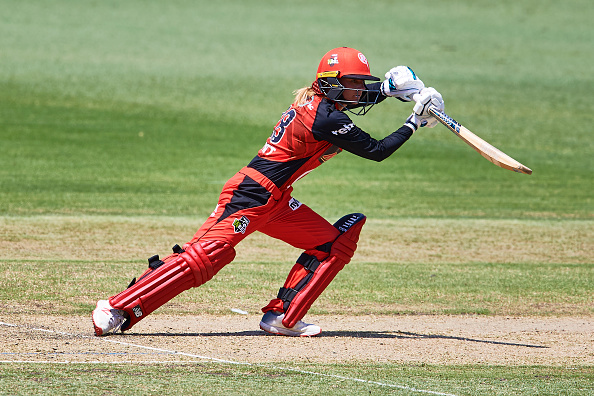 Danni topped the Renegades batting averages during the group stage of this year's WBBL
"At the start of the tournament, our batting wasn't clicking as a team but now as we've come to the end of the season, our batting has definitely clicked. Our bowling has been exceptional throughout the tournament, so it's like we're coming into form at the end of the tournament which is probably the best time to be reaching your peak, I guess."
That said, the Renegades are taking nothing for granted against a side gunning for their third consecutive title, as Danni explains: "We're definitely underdogs - I didn't think we'd get here the way we played at the start of the tournament - but that means we've got nothing to lose.
"I've heard the wicket's going to be a tad slow, which might suit us. If we get their top three out, hopefully we can skittle them and then we can hopefully knock it off."
And if they do, what chance of Danni extending her stay to take in the final the following Saturday, Australia Day? "Well, my flight's booked for 10pm on Saturday night, so I don't think I'll be staying another week.
"There was talk of me staying out here for the whole tournament, but then Robbo didn't want me to fly all the way back to England then back to India, so I would've had to stay for the whole time which wouldn't be very good for my mental health. I'm actually missing the English weather, I can't wait to feel the cold for a week!"
What follows is another busy few months for Danni and her England teammates, with those tours to the subcontinent being followed by the visit of the West Indies to England in June and then the hotly-anticipated Ashes series in July.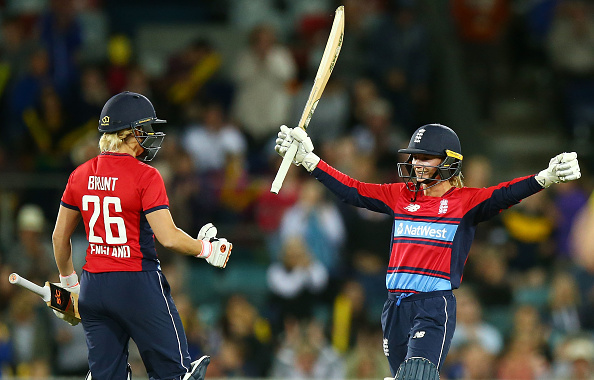 Danni scored a century during the previous Ashes series in Australia last winter
The penultimate match in that series is a T20 at the home of Sussex Cricket, The 1st Central County Ground, a fixture Danni is relishing: "When I saw that I was like, "Yes, I love playing at Hove." It's an amazing ground and I love the city. There's always a decent crowd at Hove, a great, great crowd. They really do get behind us every time we play there. I remember we played against South Africa last summer and I was at backward point and took a diving catch off Lizelle Lee. She was on about 70 odd and I just remember the cheer. I was like, "Wow." The support was amazing that day.
"Who knows? It might be the business end of the Ashes. We might need to win so hopefully we can get the crowd behind us."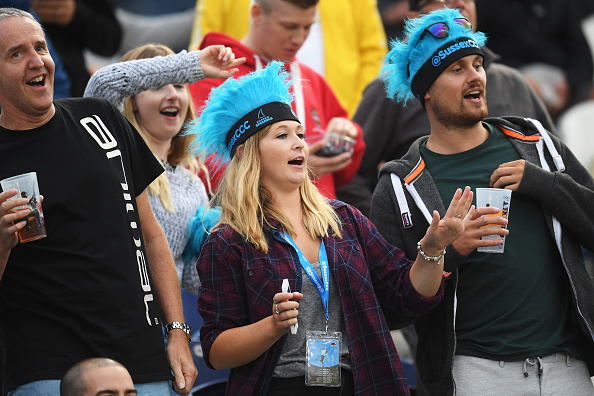 The crowds at The 1st Central County Ground have made it somewhere Danni relishes playing
Despite all those commitments, Danni, who joined Sussex from Nottinghamshire ahead of the 2016 season, is hopeful that she'll still be able to turn out for her adopted county as much as possible next summer: "I'm keen to play a few games, that's for sure. I love playing for Sussex. It's a great bunch of girls and we've got a great team, especially when Sarah [Taylor] and Georgia [Elwiss] are playing. We've got some good young talent coming through as well which is exciting. Hopefully we can win that championship because I think it's about time we did!"
Before all that though, there's the small matter of tomorrow's semi-final. No late night phone calls tonight!
Danni and her England teammates take on Australia in a T20 international at The 1st Central County Ground on Sunday 28th July. Register your interest before midday on Wednesday 30th January to gain access to an exclusive priority ticket window.