NEXT MATCH:
Sussex CCC vs Lancashire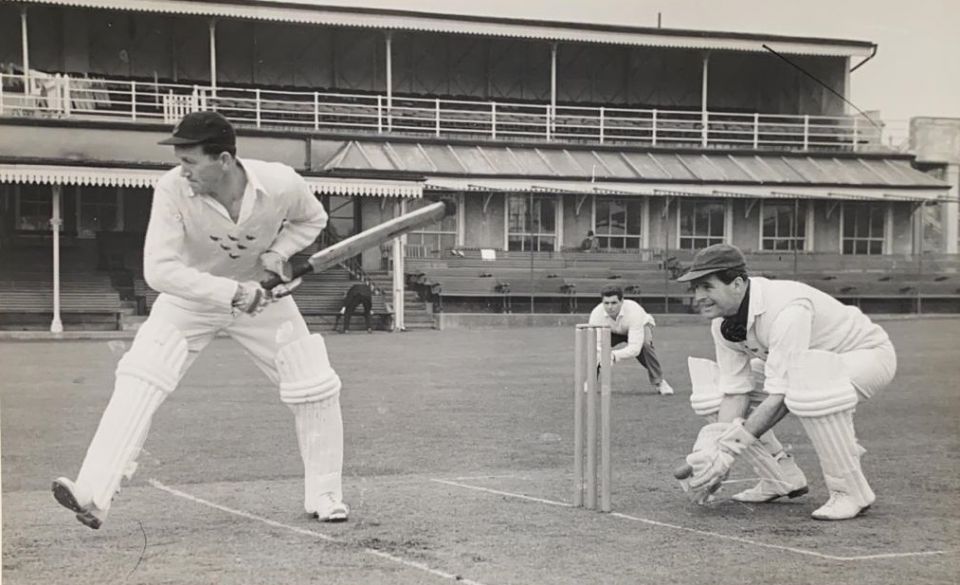 Don Smith bats during pre-season practice at the County Ground, Hove in the late 1950s. The wicketkeeper is Rupert Webb (Photo: Sussex Cricket Museum)
Sussex Cricket is deeply saddened to learn of the death of Don Smith, in Adelaide, at the age of 97, on Sunday 10th January. He was England's oldest living male Test cricketer.
Don was born in Broadwater on 14th June 1923 and educated at Sussex Road School, Worthing. He played his early cricket for Worthing Boys' Club and Worthing Nondescripts before volunteering for the RAF in 1941. After the war, he was recommended to Sussex by J.K. Mathews and made his first-class debut against Nottinghamshire at Trent Bridge in 1946. He was a left-handed opening batsman and medium pace bowler who went on to score 16,960 runs and take 340 wickets in a first-class career which did not end until 1962. He played three test matches for England against the West Indies in in 1957.
Following his cricket career, Don had intended to develop a business growing roses in Worthing but after a particularly dry summer he was invited to become Cricket Coach and Groundsman at Lancing College, a job he did with distinction for over 20 years. He was a complete sportsman and after playing County League football in Sussex for many seasons he refereed football in the county. In 1984 he was invited to become the Head Coach of the Sri Lanka National Team and after a short period in that role he and his wife Lyn, settled in Adelaide where he became a naturalised Australian. He enjoyed a very active retirement, playing bowls well into his nineties and frequently watching test matches at Adelaide, where he welcomed many visitors from Sussex. Don died shortly after enjoying watching the final day of the New Year test match between Australia and India on television from his bedside. The thoughts of all at Sussex Cricket are with his wife Lyn.
Obituary by Jon Filby