NEXT MATCH: Sussex CCC vs Durham
Blast from the past: Mike Yardy & Piyush Chawla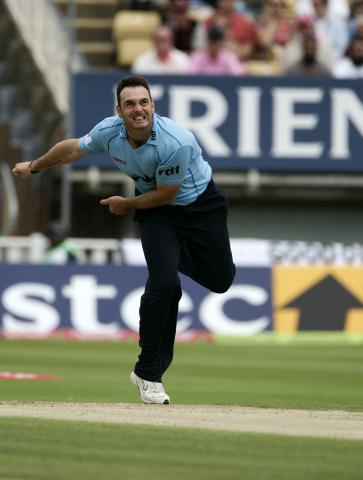 Today marks the final day of our Blast from the past feature to accompany our special ticket offer for the Vitality Blast match against Surrey on Friday 13th July. Who better to finish things than the captain of the 2009 twenty20 Cup winning side? We also take a look at an Indian spinner who played a cameo in the campaign.
MIKE YARDY
Appearances: 13
Wickets: 13
Average: 19.53
Economy: 5.38
Best: 3-21
Runs: 107
Average: 26.75
Highest: 26*
In many ways, Mike Yardy was the embodiment of what made Sussex the best T20 side in the country in 2009. Alongside the likes of Yasir Arafat, Rory Hamilton-Brown, Dwayne Smith and Luke Wright, he was one of a number of versatile cricketers who could bat, bowl and field and adapt these skills to a wide-range of situations.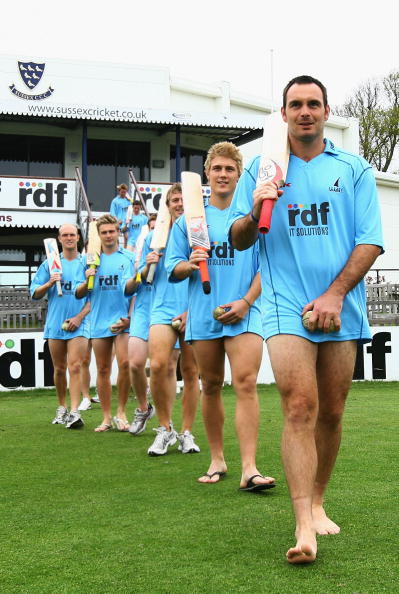 Leading from the front. Mike and his team strike an unusual pose ahead of the campaign as part of a collaboration with a cancer charity.
A well-stocked armoury is one thing, but successfully deploying it is another and it is perhaps Mike's captaincy that was his biggest contribution to the 2009 trophy win. As well as leading from the front with his own performances, 'Yards' astutely juggled the resources at his disposal, unafraid to change the batting order to suit a particular stage in the innings or remove bowlers from the attack if he felt someone else was better suited to a situation. And to think it was his first year in charge of the side.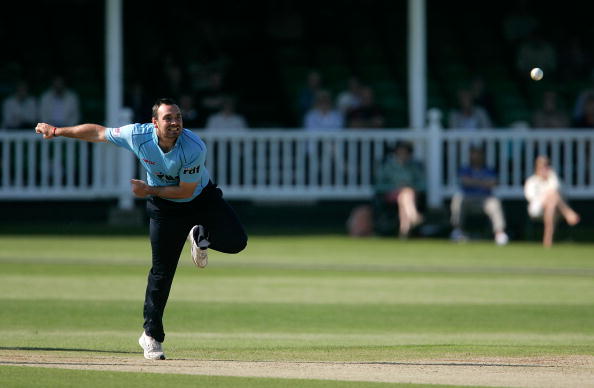 Miserly Mike. Yardy's bowling was always tough to get away.
The then 28-year-old's bowling was also a crucial factor in the Sharks' success. Mike was nearly always economical – of those who bowled at least 20 overs in the tournament, only David Willey of Northants had a better economy rate – and often penetrative. He took three wickets on two occasions in the group stages, once against Middlesex at Hove and once against Surrey at The Oval. The latter lost two more batsmen to the slow left-armer in the return fixture.
Even when he wasn't taking wickets, Mike was hugely impactful. He only took one wicket in Sussex's three knockout matches, but his twelve overs went for just 62 runs. In the final, Somerset's batsmen could only score 17 runs from Mike's four overs, forcing them to take costly risks off Sussex's other bowlers that led to their collapse to 109 all out.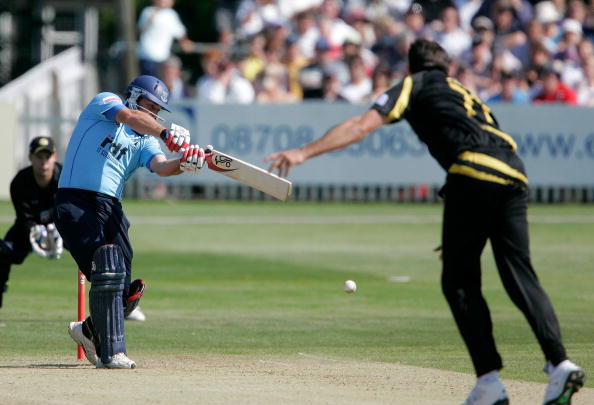 Finishing the job. When he got the chance to bat, Mike was often unbeaten at the end of Sussex's innings.
Mike didn't spend an enormous amount of time at the crease during the tournament – facing a little over 20 overs in total in his 13 appearances - but he was on hand to marshal the end of Sussex's innings when required. His not out scores of 26, 19 and 21 in the matches against Kent, Essex and Kent illustrate this point. Yardy's six catches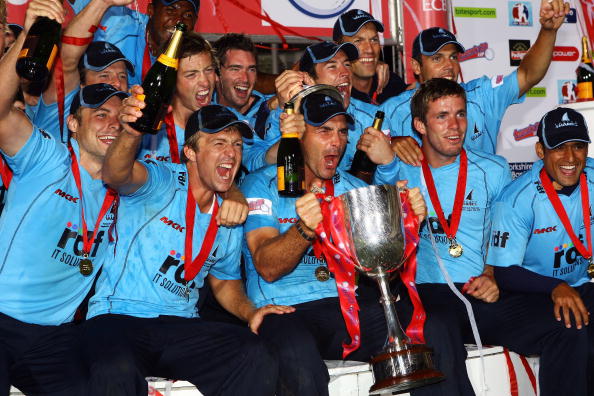 To the victor, the spoils. Leading the celebrations.
Given his all-round contributions in the tournament, it was no surprise when Mike earned a recall to the England side the following season. A few months after that he was lifting another piece of silverware as an ICC World T20 winner.
PIYUSH CHAWLA
Appearances: 1
Wickets: 2
Average: 8.50
Economy: 4.20
Best: 2-17
Piyush Chawla was with Sussex to play in the Championship and Pro40, but Yasir Arafat's involvement with Pakistan at the World T20 saw the Indian leg-spinner drafted into the twenty20 Cup side for a single match.
Piyush was a more than capable replacement, taking 2-14 from his four overs as the Sharks comfortably beat Surrey at Hove.

Alongside the seventeen players we have profiled during the course of the Blast from the Past feature, Chris Liddle and Carl Hopkinson are also pictured in the 2009 twenty20 Cup winners photo. The pair didn't play in that year's tournament but were on hand to perform twelfth man duties at finals day.
Chris would go onto become one of Sussex's key T20 bowlers, playing a total of 66 matches for the Sharks and taking 77 wickets. His 5-17 versus Middlesex in 2012 are the joint second best bowling figures for Sussex in T20 cricket.
T20 was probably Carl's least preferred format, but he still appeared in 28 matches for the club. His top-score came against Middlesex in 2008 when he smashed a 16-ball 26 not out batting at number seven.  His electric fielding was always an asset for Sussex, and it was appropriate that he took three catches in his final ever appearance for the Sharks in T20 cricket against Kent in 2008.
Tickets for all seven of Sussex Sharks' Vitality Blast group matches at The 1st Central County Ground, Hove are ON SALE NOW and can be purchased online or by phone on 0844 264 0202.
The Blast from the past promotion offering adult tickets for the match against Surrey on Friday 13th July at 2009 prices will then be available until the end of March.
An even better value way to catch that match and the rest of Sussex's home group games is the T20 Blast Pass, which provides adult entry for the equivalent of £14.14 per match. For more details click here.