NEXT MATCH:
Kent vs Sussex CCC
Becoming the home of women's cricket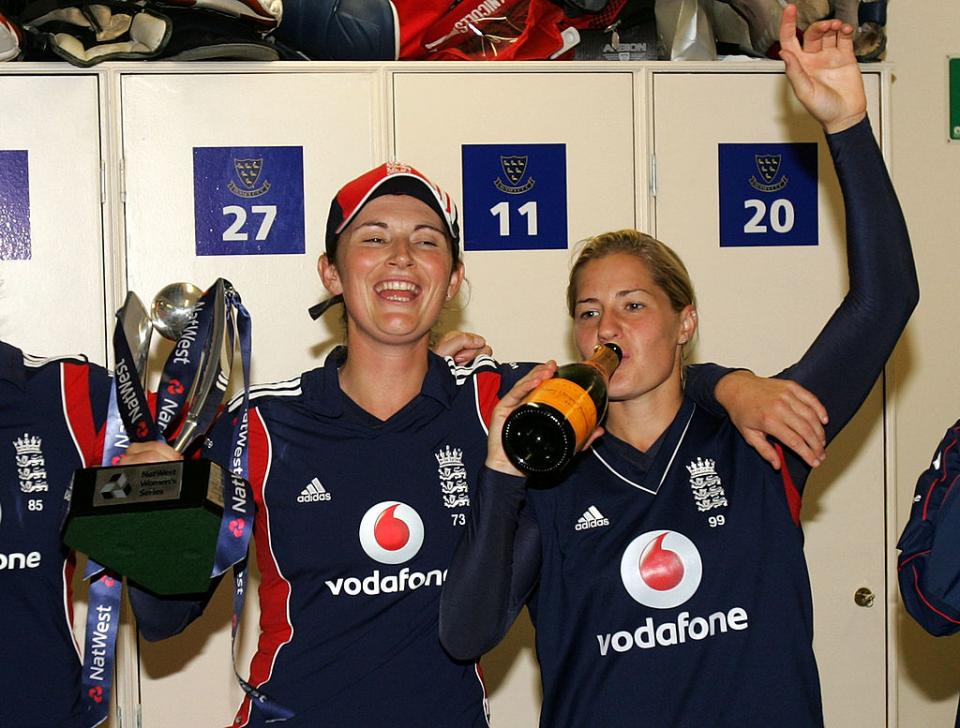 Sussex has developed a strong reputation for women's cricket over the years. Only Kent have won more County Championship titles than Sussex's six, England legends such as Jan Southgate, Clare Connor, Holly Colvin and Sarah Taylor were all Sussex players, Sussex was the county with the most players awarded an England central contract in 2019 and a thriving girls section promises to provide many more England players in the future.
The passion for the game in the county has turned Hove into an increasingly popular place to host major women's matches. That's something that will continue next year when The 1st Central County Ground becomes home for the Southern Brave women's side in The Hundred. Ahead of the start of that new era, let's take a look back at Hove's history as a venue for major women's matches…
Beginnings
England played their first recorded matches against Scotland in 1932 and their first official Test match two years later on tour against Australia. It wasn't long before Hove first welcomed the national side, hosting England Women v The Rest in the summer of 1935. Sadly, the scorecard of the match has not survived, but we can assume that the England team would have included pioneering powerhouses Betty Snowball and Myrtle Maclagan.
First world cup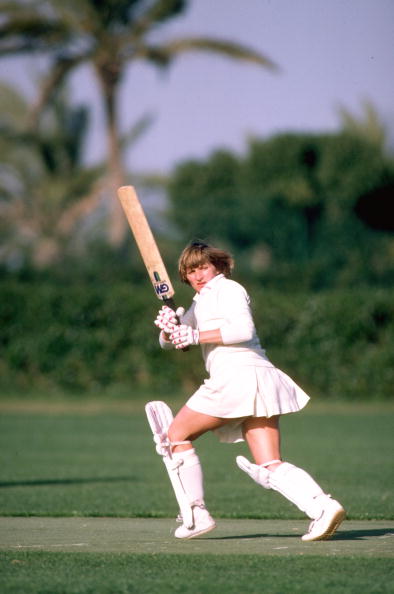 Enid Bakewell in action
England played various touring and representative teams at Hove in the intervening years, but it wasn't until June 1973 that Hove hosted its first full international. England took on International XI in the first match of the first women's world cup, which was also the first ever women's one-day international. A thumping 135-run win – set up by a 246-run opening partnership between Enid Bakewell and Lynne Thomas – augured well for captain Rachel Heyhoe-Flint's team, who went on to lift the trophy.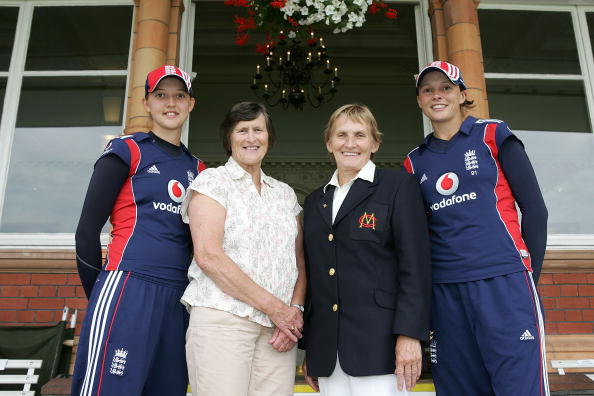 Enid Bakewell & Lynne Thomas with Sarah Taylor & Caroline Atkins in 2008
Hove's first Test match
Test cricket made its first appearance at the County Ground in August 1987 with England taking on Australia in the third and final match of the series. Carole Hodges' team went into the game needing a win to square the series, but benign batting conditions made it hard for either side to seize the initiative and the game petered out to a draw. With England not playing their next Test match until 1992, those four days on the south coast marked the end of four England players' Test careers.
Another long gap
The trend of lengthy intervals between women's internationals continued into the 1990s, with England not returning to Hove until 1998 for the third ODI of an ill-fated five-match series against Australia. Taking on a Australia side containing a middle order engine room of Lisa Keightley, Karen Rolton and Mel Jones, England suffered a 35-run defeat on their way to a five-nil whitewash. A bright spot for the hosts was an innings of 75 from an 18-year-old Charlotte Edwards. Both she and Keightley will be back at The 1st Central County Ground in the future as respective head coaches of Southern Brave and England. Jones could well be commentating!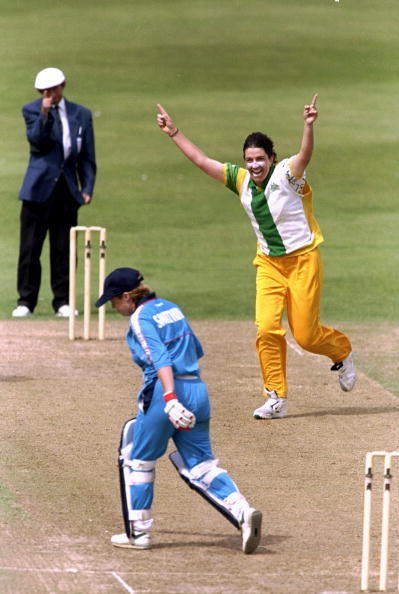 Bronwyn Calver of Australia celebrates after taking the wicket of Karen Smithies at Hove in 1998
The first ever T20I
International T20 cricket was born right here in Hove. The first ever T20I for either women or men saw England take on New Zealand in August 2004. England were captained by Clare Connor, who was joined in the side by Sussex teammate Rosalie Birch. Off-spinner Birch was the pick of England's bowlers, taking 4 for 27 as New Zealand posted 131 for 8. That was beyond England, however, who fell ten runs short of victory. The hosts had swift revenge when the first ODI of a five-match series was played at the County Ground on the very next day. Birch impressed again, hitting 34 from the middle order at almost a run a ball and then taking three wickets as England won by 45 runs.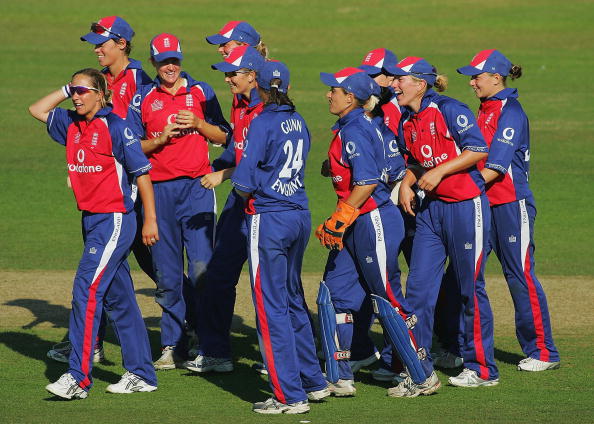 Sussex's Clare Connor led England in the first ever T20I at Hove in 2004
The following summer saw Hove host its first official Ashes Test. The concept of an official Women's Ashes had been introduced in 1998, but unlike today, ODIs were not part of the contest. The match was drawn, but the real story was selection of Sussex's Holly Colvin, extracted from the nets to become England's youngest ever Test cricketer of either gender at 15 years old. The left-arm spinner took three wickets in Australia's first innings, including two in two balls. England would go on to win the second and final Test at New Road to win a Test series against Australia for the first time.
Holly Colvin made her international debut at Hove in 2005
Regular fixtures
England women went into the fifth and final ODI of their 2008 series against India looking to complete a whitewash. The Hove crowd was looking forward to its first glimpse of local starlet Sarah Taylor in an England shirt. Sadly, rain interrupted an already shortened game after just four overs. England's dominance in the series was a sign of things to come. They went onto win the World Cup in Australia the following winter.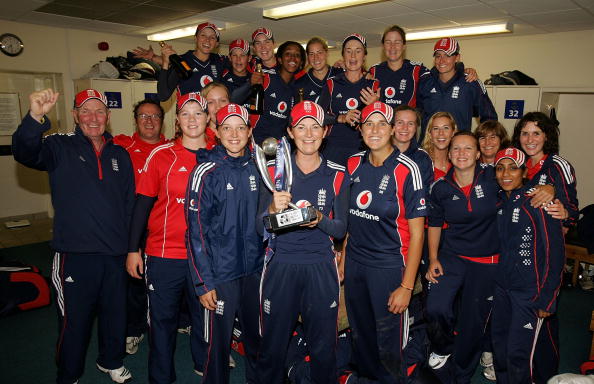 England celebrate their series win over India in the County Ground dressing rooms
Taking on New Zealand in the deciding match of a three-match T20 series in the summer of 2010, England lost a low-scoring affair by nine runs. Danni Wyatt and Dani Hazell were both in the team that day as relative newcomers to the international scene. Both would go on to assume star roles for England over the next decade.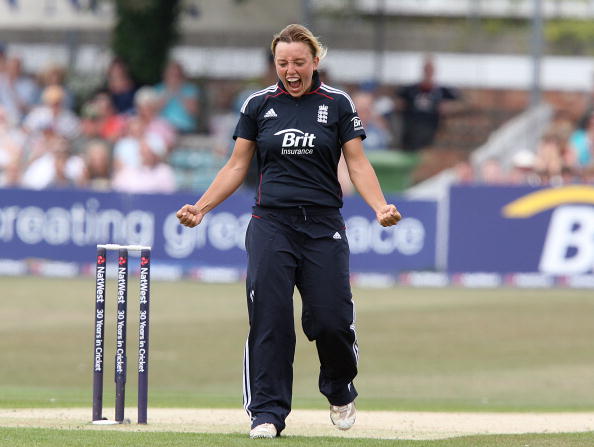 Dani Hazell celenbrates a wicket New Zealand at Hove in 2010 
England's next visit to Hove was in September 2012, when they recorded a thumping 84-run win over West Indies. It was the team's 21st T20I without defeat, a run that stretched back 18 months. That streak would end the very next day at another ground in Sussex, however, with West Indies securing a consolation win at Arundel that saw the series finish 4-1.
Australia were back in town the following summer for two ODIs inside three days as part of an Ashes series decided for the first time by points accrued across all three formats. In the first of the Hove fixtures, Sarah Taylor was part of an England top five who all scored over 30 as England won by 51 runs. It was their first win over Australia at Hove in any format. A side containing many of the names that would go onto win the World Cup on home soil four years later repeated the feat in the second match. Taylor again starred with the bat, scoring 64 from 59 balls, as well as wowing supporters with an incredible catch behind the stumps as England won by five-wickets to seal a 2-1 series victory on their way to regaining the Ashes.
#
Sarah Taylor pulled off one of the greatest catches of all time at Hove in 2013
The professional era begins
England's leading women's cricketers were awarded full-time contracts for the first time in May 2014. Their first visit to Hove as professionals came the following summer when they took on Australia in the second T20I of the 2015 Ashes. After restricting the tourists to 107 for 7 in front of a sell-out crowd of nearly 6,000 supporters, England would have had high hopes of a successful chase to keep the multi-format contest alive. A collapse to 87 all out, however, saw Australia take the Ashes for the first time since 2010-11 with a match to play.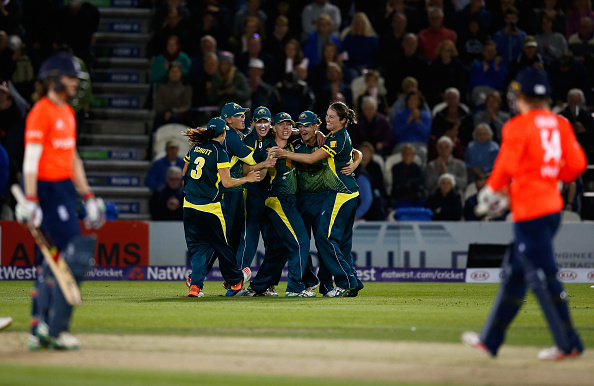 Australia regained the Ashes at Hove in 2015
The home of women's cricket
The sell-out crowd at the 2015 Ashes clash was indicative of the appetite for the women's game in and around Hove. This was acknowledged two years later when the Kia Super League Finals Day was awarded to The 1st Central County Ground. Inspired by the national team's world cup victory on home soil, nearly 3,500 people – a record for a domestic women's cricket match at the time – watched Western Storm take the title. Such was the success of the day that Hove was made the permanent home of Finals Day, with two more bumper crowds attending in 2018 and 2019. It was no surprise, then, when The 1st Central County Ground was named the home venue for Southern Brave's women's team in The Hundred.
2017 saw The 1st Central County Ground host the first of three consecutive Kia Super League Finals Day 
The last two summers have also seen women's international matches played at Hove. In 2018, England inflicted a comprehensive defeat over South Africa in a day-night ODI. Sarah Taylor – one of three Sussex players in the England team - scored a magnificent century as England made 331 for 6 on their way to a 69-run win. They were on the wrong side of the ledger against Australia in a T20I this year, however, losing by seven-wickets.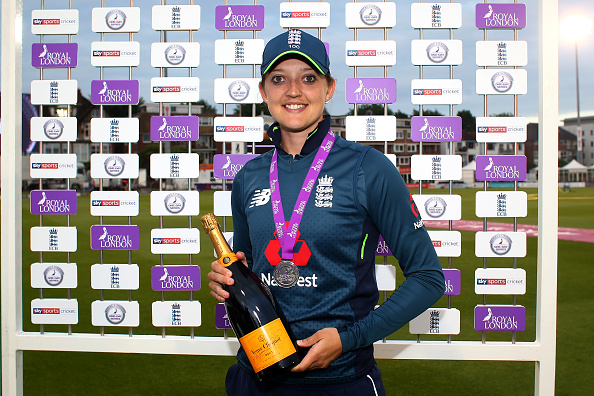 Sarah Taylor scored a century on what would turn out to be her final appearance for England at Hove
Be the first to know when The Hundred and future England matches at The 1st Central County Ground are announced by signing up to the Sussex Cricket newsletter!