NEXT MATCH: Sussex CCC vs Durham
Actor, footballer, test cricketer and racehorse trainer among Boundary Club speakers for 2018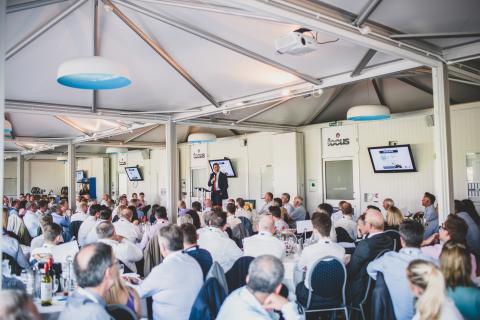 Speakers at The Boundary Club in 2018 will include Monty Python actor, Carol Cleveland, former transfer-record holding footballer, Steve Daley, Australian cricketing legend and Sussex Cricket Head Coach, Jason Gillespie and racehorse trainer, Nick Gifford.
The Boundary Club is Sussex Cricket's prestigious networking club, widely regarded as one of the most successful in the south east.
Having been at capacity for the past three years, a very small number of Boundary Club places have become available in 2018.
A community made up primarily of business owners and senior decision makers, Boundary Club events offer an invaluable opportunity to meet new contacts, renew old acquaintances and further awareness of one's own brand.
The Boundary Club meets for nine monthly lunches between March and December, six of which are set to the backdrop of a Sussex CCC match.
At each event, members are treated to a three-course lunch, wine and an address from a guest speaker. The afternoon is then set aside for members to continue networking and enjoy the cricket.
Previous speakers have included Downton Abbey actor, Jim Carter, fashion designer and television personality Wayne Hemingway, crime author, Peter James and former Liverpool & Brighton & Hove Albion footballer, Jimmy Case.
Guest lists are published three days prior to each event to allow members to make seating requests to maximise their networking opportunities.
Jon Beard, a partner at the UK's largest professional services consultancy, Begbies Traynor explains the value of a Boundary Club membership: "We have been members of the Boundary Club since its inception and have found it fun and useful to meet like-minded professionals and business people.
"It is a great business networking group with the added bonus of being able to watch first-class cricket!"
Sussex Cricket's Business Relationship Manager and Boundary Club compere, Tony Cottey describes the unique appeal of the gatherings: "The combination of our high-calibre membership, convivial and welcoming atmosphere and the idyllic setting of The 1st Central County Ground make The Boundary Club a networking club like no other.
"An array of fascinating speakers and the regular backdrop of county cricket make for ideal conversation topics and make forming and fostering relationships with some of the most influential business figures in the region easy.
"Our members continue to create opportunities for their businesses as a direct result of the connections they have made at The Boundary Club."
More information on The Boundary Club is available here. For any enquiries, or to secure one of the few places available for 2018, please contact Lisa Hogan at theboundaryclub@sussexcricket.co.uk.