NEXT MATCH:
Sussex CCC vs Essex
74 - the story of Ollie Robinson's incredible 2018 Championship season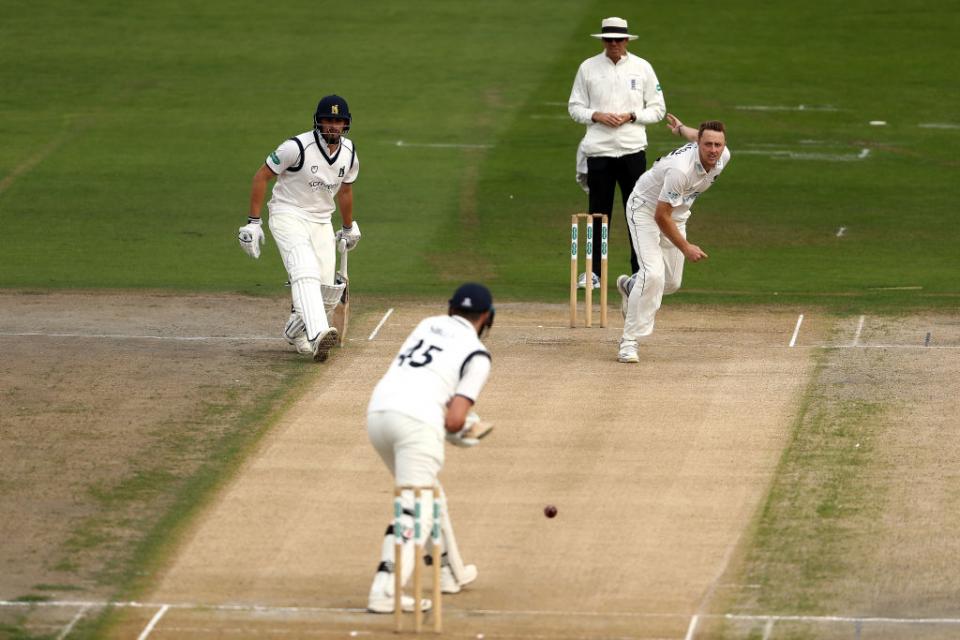 Over what should have been our scheduled 2020 Vitality Blast campaign, 1st Central are putting the Sharks in the spotlight. This week, it's the turn of our #SharkAttack.
Today, we're delving into our archives to remember Ollie Robinson's incredible 2018 season - a campaign that saw him take 74 wickets in the County Championship. 
The ex-Yorkshire man was also in exceptional form throughout the summer of 2019, taking 63 wickets, but you have to go back 19 seasons to find the last time a Sussex seamer took as many as Robinson bagged in 2018. Even when spinners are taken into account, it's twelve years since anyone wearing the county crest out-bowled the 26-year-old over the course of a four-day season. 
The calibre of the cricketers whose hauls Robinson came close to in 2018 year reveals a lot about his achievement. James Kirtley, who took 75 wickets in the 2001 season, and Mushtaq Ahmed, who took 90 wickets during the Championship winning campaign of 2007 are international cricketers and bona fide Sussex legends. What's more, their tallies came when the competition was 16 matches long as opposed to the 14 that are played now.
Then there are the leading wicket-takers of the past twelve campaigns that Robinson has gone past. Jofra Archer, Steve Magoffin (five times), Monty Panesar, Corey Collymore, Piyush Chawla and Jason Lewry provide esteemed company.
The signs that the man known to his teammates as 'The Rig' was on for a good season came in the pre-season match against Loughborough MCCU when he took a first-class career best 7 for 23.
Once the Championship got underway, however, Robinson had to be patient. Despite bowling well, the burly seamer only picked up three wickets from the opening two fixtures. Then the floodgates opened.
Robinson warmed up with six wickets in the draw against Gloucestershire. He might have had more – and might have propelled Sussex to victory – if the fourth day had not been washed out with Gloucestershire six down in their second innings and still needing 59 runs for victory.
An irresistible performance in the next match against Middlesex saw Robinson take 7 for 53 in the first innings. It was his second seven-wicket haul of the first-class season but coming in the Championship and putting Sussex in a strong position, this one meant a lot more. The bowler himself revealed why: "we've not had a win yet and it'd be nice to get off the mark, so it makes the wickets all the more special". Three days later, Robinson's efforts had helped the side to their opening victory.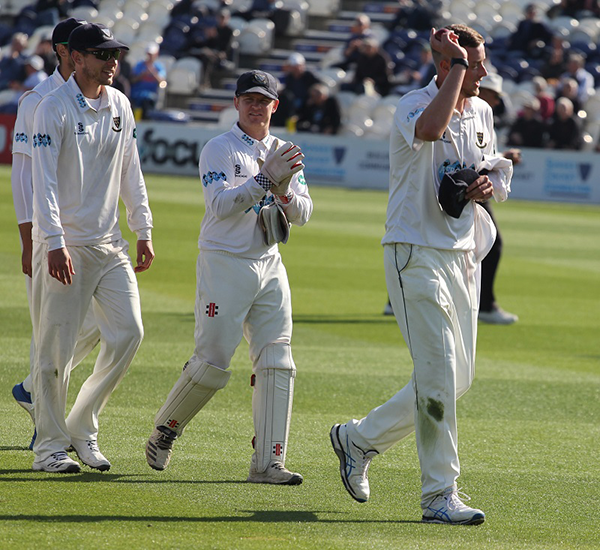 Robinson leads Sussex off after his seven wickets against Middlesex
The next match against Kent ended in defeat, thanks largely to New Zealander Matt Henry – the only man in either division that would finish the season with more wickets (75) than Robinson. On a personal level, however, Robinson had another good game, taking three wickets in Kent's first innings and four in their second and leaving him with 21 dismissals from three games.
With the Royal London One-Day Cup and Vitality Blast competing for space in the fixture schedule, Championship matches became less frequent, but Robinson kept his wicket count ticking over. In the five games that took place from the end of the Kent defeat in the middle of May until the end of August, he added another 23 wickets to his haul. That took him to 46 for the season, matching his previous Championship best with four games still to go.
As September arrived, the red-ball action ramped up once again. Cue a remarkable streak that brought Robinson 19 wickets in six days of cricket. On the day he signed a new contract, he took four of the wickets that reduced Leicestershire to 9 for 5 in their first innings and finished with 5 for 24.
Another five wickets in the second innings gave him ten wickets in a first-class match for the first time as Sussex romped to victory. Having reached the magic number of 50 wickets in a Championship season, a beaming Robinson offered a simple explanation of his success: "I'm in a really good headspace and a really good rhythm. I'm doing the basics well and it's coming off at the moment."
A trip to Chester-le-Street brought defeat, but not before the now leader of the Sussex attack took a third consecutive five-for as Durham were bowled out for 103 in their first innings and then followed it up with four more dismissals in their second.
A batsman-friendly wicket at The 1st Central County Ground limited Robinson to two scalps against Warwickshire, but he was back to his best in the final match of the season. Seven more wickets at Wantage Road took him past Magoffin's 2015 and 2014 hauls of 69 and 72 respectively and within one of Kirtley's 75 in 2001 to confirm Robinson as Sussex's most deadly Championship seamer in almost two decades.
Seventy-four victims meant that it was the Sussex man leading the way in terms of English-qualified bowlers across either division in 2018. His nearest rival for that title – Lancashire's Tom Bailey – was ten wickets behind. Fifty-four percent of Robinson's dismissals this season were either bowled or leg before wicket, highlighting a) his ability to bowl at the stumps consistently and b) his skill in making the ball do enough through the air or off the pitch to then beat the bat. It's a combination shared by the very best bowlers in the world.
Kirtley's 2001 season led to an England debut that winter. After helping England Lions to victory in Australia and his recent inclusion in England's 'behind-closed-doors-training' group, Robinson's debut might not be far away either...