NEXT MATCH:
Sussex CCC vs Lancashire
An Evening with Matt Prior - 1st July 2020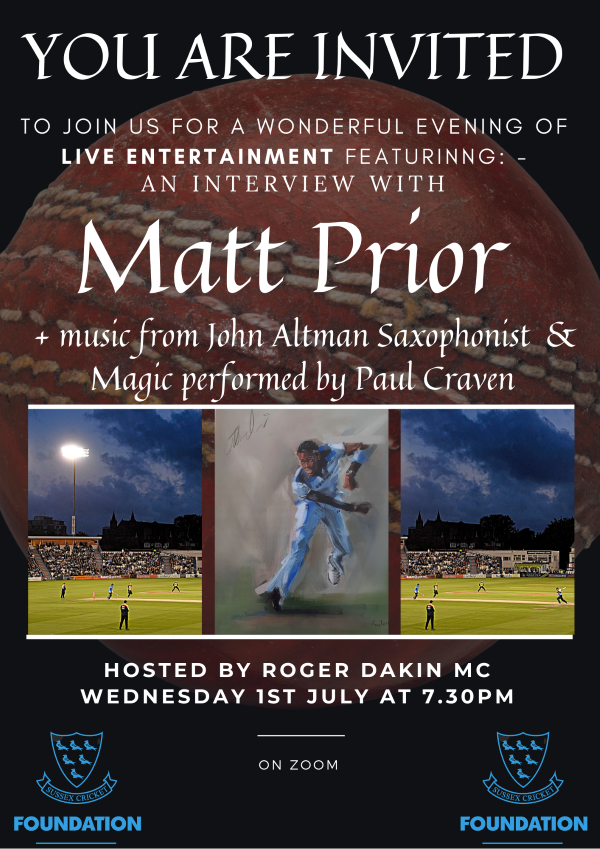 Sussex Cricket Foundation are pleased to invite you to join us for a spectacular evening of entertainment & cricket-themed fun.
This FREE event will take place on Wednesday 1st July at 7.30pm – 9pm, streamed direct to your home via Zoom video software.
Talented MC Roger Dakin will be hosting the evening, comprising of: -
Cricket
Exclusive cricket chat with Sussex's most capped test cricketer Matt Prior and his 2003 Championship winning coach Peter Moores;
They will be talking all things cricket, life with lots of new stories about Sussex Cricket's greatest days; answering your questions live….
Music
Saxophone performance from John Altman - the wonderful film composer, music arranger, orchestrator and conductor, who wrote and produced all of the iconic period music for Titanic; amongst a great many more films.
John is a highly regarded award winner for his contemporary orchestral scores, big band music and small group ensemble work. Don Heckman in the Los Angeles Times describes him as "one of the few film composers with authentic jazz skills."
Magic
A live magic show performed by Paul Craven, successful Magician & entertainer
There will also be an auction and chance to bid for / purchase unique items; including a signed, limited edition print of Jofra Archer...+ much more.
Spaces are limited, so please click here to RSVP and reserve your FREE ticket ASAP: -  
https://us02web.zoom.us/webinar/register/WN_8zkqjsl1Ta-QxHAKTND-8Q
 We look forward to seeing you online!
Where Cricket Meets...Kevin Keegan
Where Cricket Meets...
from £75.00 including VAT

To purchase a table, please select 10 tickets from the table option below.

Guest are welcome to arrive from 12pm and your three-course lunch will be served at 1pm.

The afternoon will include stories from football legend Kevin Keegan, Head and Tails, Charity Aution and Raffle.

All proceeds raised will go to changing lives through cricket by supporting Sussex Cricket Foundation and Matthew Hobden Trust.
An Evening of Comedy & Magic - 14th October 2019
Come and enjoy a relaxed, informal evening of mystery and fun, with two international star magicians, Michael Vincent & Nigel Mead, both of whom are members of the Inner - Magic Circle.
Please see the attached for further information and booking.
Katy's Cycling the Via de la Plata - a Camino of 1,000km...
Katy Cooper is cycling 1,000km through Spain in aid of the Sussex Cricket Foundation.
www.justgiving.com/fundraising/katycamino2019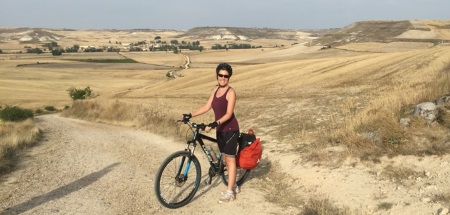 UPDATE 17th June 2019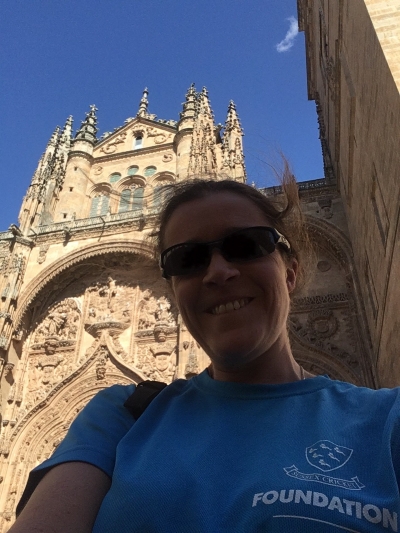 Dear all
Greetings from sunny Salamanca! As you may have gathered, I am a trustee of Sussex Cricket Foundation and I am on a 1,000km, solo, sponsored bike ride from Seville in southern Spain to Santiago de Compostela in the north-west. As I'm now just over half way, I thought I'd send an update.
I've been cycling for nine days, with eight more to come. I'm doing about 60km a day, on a mountain bike. Most of the route is either on paths or on the sort of 'road' on which, were you driving a car, you would definitely want to take out extra insurance for damage to the underneath of the vehicle. It's a wonderful part of the world for panoramic landscapes, birdlife and, particularly, history. The route I'm taking - known as the 'Via de la Plata' - was originally a Roman road, and then in the Middle Ages became one of the 'Camino' (pilgrimage) routes to Santiago de Compostela. There are some amazing churches and walled towns (I've already been to two places that were settings for 'Game of Thrones'), and I've been very, very lucky with the weather so far...but north-west Spain is one of the wettest parts of Europe, so this could change... I'm also fortunate to have timed this to coincide with the Cricket World Cup, which gives me something else with which to fill my days once I've arrived at my destination (when there's play, that is!).
The photo is of me outside Salamanca Cathedral - in my SCF T-shirt, of course! - and if you want to read about my daily progress, I'm blogging each evening at https://katycamino.wordpress.com.
It's a long way to be travelling on my own - and I really appreciate all the support I've been shown so far. Thank you so very much to those of you who have already so generously sponsored me. My JustGiving page (which also allows you to add 25% extra through Gift Aid) is at https://www.justgiving.com/fundraising/katycamino2019 - and I would be hugely grateful for anything you can give. The Sussex Cricket Foundation does amazing things, and with your support we can do even more!
Thank you so much again - and I'll send another update when I make it to Santiago!
All the best
Katy
To read more about Katy's incredible challenge download the booklet below.
CHARITABLE REQUESTS
Sussex Cricket prides itself on charitable giving and endeavours to support as many charity requests as possible.
We receive hundreds of requests each year so please appreciate that we are unable to facilitate them all.
We will give priority to organisations that support or partner with us, as well as giving consideration to Sussex based charities, schools and cricket clubs. Please allow a minimum of two weeks to action any response.
In order to be considered for a donation please email foundation@sussexcricket.co.uk with all the required information.