>
NEXT MATCH: Gloucestershire vs Sussex CCC
UPCOMING EVENTS
There is so much to see and do here at The 1st Central County Ground, Hove so why not take a look at our events calendar and find something that takes your fancy? We have a range of dinners, lunches, parties and more throughout the year that you can join and enjoy.
After the success of the Winter 2017/2018 Monthly Lunch events, we are pleased to announce that they will return in 2018/2019.
Dates will be confirmed later in the summer but you can expect the usual great array of speakers, delicious two course lunch and a drink on arrival for just £18.00.
The SCCC Curry & Quiz returns to The 1st Central County Ground, Hove on Thursday 4th October 2018 with all supporters and avid quiz-goers welcome.
The evening will take place in the Long Room of the Spen Cama Pavilion. Tickets cost £10.00 per person to include the curry & quiz, or £5.00 per person for the quiz only.
Teams should be a maximum of 6 players but individual competitors are also welcome. There will be prizes so bring your quizzing brain with you!
Registration is at 7pm with the curry served from 7.15pm and the quiz starts at 8pm.
To reserve your space, or for more information, contact the team on 01273 827106 or email smorse@centerplate.co.uk
Please note our final 2018 Curry & Quiz event will be on Thursday 29 November. 
"Where Cricket Meets.....Football"
Wednesday 25th July 2018 - In aid of Sussex Cricket Foundation, with special guest speaker BRUCE GROBBELAAR.
For more info or to book, please email corporatesales@sussexcricket.co.uk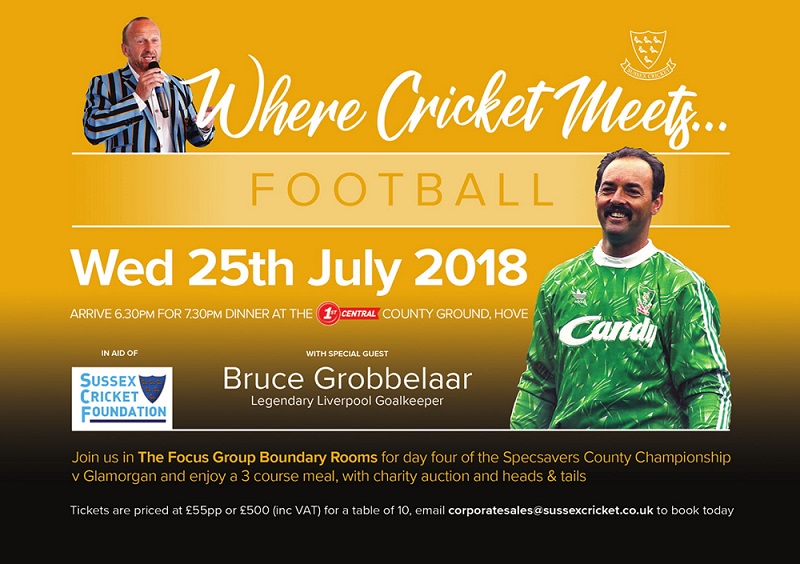 For all other Where Cricket Meets events, please CLICK HERE.