NEXT MATCH:
Sussex CCC vs Lancashire
Pitch Advisors Role
The role of a CPA is to: Advise on the maintenance and renovation of cricket surfaces.
To undertake Performance Quality Standards (PQS) assessments and/or detailed pitch assessments for square and/or outfields and the production of a detailed report and related documentation using approved templates.

To undertake basic advisory assessments including visual inspections and the production of short reports.  All Reports must produce written outcomes

To maintain an activity log recording site visits, reports produced and any verbal reports/conversations.

To monitor the developments of any facilities on which recommendations are being implemented.

Respond to urgent issues that need advice – for example when a club must deal with an act of vandalism, flooding or a request from the league where a pitch has been reported as poor. 

All enquires, and payment/reimbursement will be managed by the CCB, with copies of reports sent to the CCB initially for internal review and approval.

Promote and work within the CCB facilities strategy (support to be provided by the RPA).
Support initiatives from the CCB and/or the ECB to promote groundstaff and improve the quality of playing surfaces including working with Leagues to develop knowledge and expertise.
Pitch advisors are not qualified to advice on drainage or construction projects, but will be able to assist in signposting clubs to relevant sources.
The purpose of the scheme is to deliver the following:
Promotion of Minimum Quality Performance Standards to develop pitches that are safe and provide encouragement to both bat and ball.

Working with the County Cricket Boards (CCB), in developing and delivering advise and support to all local Groundstaff.

Provide a proactive response and service to clubs/Leagues

Raise the profile for Groundstaff within the sport.

Undertake the accurate assessment of cricket sites and to produce the appropriate reports and supporting documentation.
Pitch Advisors Price List
Mini pitch report - £100 plus mileage 0.45p per mile
Price includes :-
Site visit

Visual inspection

Verbal advice

Mini Report
Full pitch quality survey - £250 plus mileage 0.45p per mile
Price includes :-
Site visit

Visual inspection

Performance Quality Standard testing against benchmarked national standards

Written report
Contact Details
For pitch advisor bookings  - Emma Brooke: emma.brooke@sussexcricket.co.uk 
County Pitch Advisor – Brian Sandalls: brian.sandalls@sussexcricket.co.uk  
County Pitch Advisor – Brian Fletcher: brianfletcher1@btinternet.com
GMA Live – Winter is Coming - Decompaction, Drainage & General Repairs of Winter Sports Pitches
I would like to bring your attention to the latest planned webinar 'GMA Live – Winter is Coming - Decompaction, Drainage & General Repairs of Winter Sports Pitches'
Registration can be found by following the link below to be held at 7pm on December 10th 2020.  Please promote far and wide.  This will be of particular interest to those cricket clubs who accommodate football during the winter months within their outfields or for general advice on maintaining outfields during the winter months.
https://attendee.gotowebinar.com/register/8153711461365675279
Kind Regards
Darren Symonds
Regional Advisor – South Central
 
SACG AGM - 30th November 2020 - 7pm
If you'd like to attend the AGM please email foundation@sussexcricket.co.uk for the joining details.
A copy of the evenings agenda and last years minutes can be download below.
SACG AGM Agenda 30th November 2020
SACG AGM Minutes 2nd December 2019
Brian Sandalls - Winter Diary
Groundsman Winter Diaries
This is a blog not to encourage Groundsmen to go out and breach lockdown recommendation, my position differs from most as this is my employment and l can't work from home.
During the last lockdown Groundsmen who could maintain social distancing where encouraged to keep the squares viable by the governing bodies
This time we are only looking at a short lockdown, so if you are not going down to the ground for another three weeks there is nothing that can't be caught up with or done in spring i.e. overseeding.
Stay safe above all.
This blog is just my movements and plans for my ground.
Germination has been great but it hasn't really thickened that much this year, in comparison to other years. So, a regular autumn and winter cutting, feeding and aeration programme will help with this.
Square cutting
I got the first cut in on 2/3 squares in early November, luckily just found a gap in the weather and topped off with the rotary at around 30mm. The plan after one more rotary cut is to get the cylinder on and start bringing the squares down to around 20mm for the rest of the winter.
Cutting at 20mm will encourage a denser and thicker grass cover, but also keep it short enough to allow air to get in and around the base of the plant, helping prevent disease.
Overseed
Once the squares have thickened up a bit l am hoping to get in an overseed, it will be late i.e. mid/late November. But for the sake of a couple of bags across the site l will take my chances, l am really keen to create a rye dominated grass square. I am trying to create a sward that's outcompetes weed grasses and other turf disorders such as moss and weeds.
Fertilisation
December and January, if it's not a scene out of the ice road truckers l will look to get on a granular fertiliser to help keep the plant healthy and keep red thread at bay. Red thread is a disease that is an indication of low soil fertility levels, specifically nitrogen.
If it goes cold, l may opt for liquid fertiliser instead as this can be sprayed directly on the leaf and it takes less effort for the plant to uptake, especially when the plant is slow in growth.
If in winter, avoiding young seed and frosts l shall be using a fertiliser with an element of iron (Fe) in it. Fe(iron) will keep the plant strong and help knock any moss formation.
Aeration
The squares at the moment are a bit thin, but after a few cuts and some thickening l think l will be able to get on and get some solid tine aeration done.
I ll be looking to get in 2-3 inches on the first spike and then going 3-4 on the next, whatever depths you do alternate the depth to prevent root breaks forming.
Aeration is of great benefit in getting some oxygen into the soil along with creating some drainage holes and also some channels for roots to migrate down.
Overseeding outfield -early November
We overseeded the outfield in my first week at the Academy, always a bit of a gamble overseeding with the potential of frosts about and being so late in the growing season.
This year temperatures are above average and the forecast is looking to stay the same, so l am confident we made the right call.
l am really keen to create a grass farm of my choice prior to spring, before the onset of weed grass seeding, blowing their weed seeds onto the outfield from surrounding areas.
Soil analysis testing
January or February, once we get a cold snap l shall be looking at getting the soil tested in terms of phosphorus and potassium and other macro/micro nutrients. The results of these tests l ll then work with my fertiliser representative and put together a feeding plan for the rest of 2021, based on what the plant actually needs.
Rest of the winter outfield wise, will see regular once a month aeration and cutting, maintaining it at 20mm and probably 25/30 mm on the junior football pitches.
If you would like to do your own dairies fresh for 2021, get in touch sure our community would love to hear what you got up to or plan to get up to on your surfaces.
Brian Sandalls - Senior Groundsmen Sussex Cricket
GMA Online Level 1 - Cricket Grounds Maintenance Course
(ONLINE) Level 1 Cricket Grounds Maintenance
The Grounds Management Association (GMA) have a range of training courses that are suitable for both the professional and grass roots volunteer. The new online Level 1 modules cover a range of sports and allow you to gain an awareness and general understanding of the tasks involved in maintaining playing surfaces.
What is involved in this online course?
It is all online. 
This online option will suit those volunteers that do not have time to travel and attend a course. You will learn about that tasks involved in maintaining a playing surface in a cost-effective way.
How much does it cost?
£25.00 (Incl. VAT)
What does the course content cover?
There are 3 modules to this training course. All are designed to either give you a new understanding or build on your experiences so far.
Requirements of the groundsperson and pitch
o Pitch and player requirements
o Introduction to Performance Quality Standards
o Maintenance activities
 
Maintenance activities (Equipment and Machinery)
o Types of equipment and machinery
o Equipment and machinery settings
o Safe use of equipment and machinery
 
Safe use and storage (Materials)
o Storage and safe disposal
o Types of material
o Application and effects of incorrect use
Each module has an informal self-assessment test, plus there is a formal end of course multiple choice assessment test, which is also online.
After you have completed these 3 modules, we will also suggest other topics of progression should you wish to continue to learn.

Please note that to ensure timely completion of this course access will only be available for 28 days from the point of booking. However, there are many useful documents within the online course that you can save / print for you to refer back to.
What do you get?
You will receive a certificate of completion which can compliment your own CPD activity.
This course is also worth 3 CPD points / 3 CPD hours.
The Late Late Cricket Show delivered on the evening of Wednesday 16th September.  Content relates to the impact of the Covid pandemic across all aspects of recreational cricket and what it has meant around ground and play conditions we have encountered this year.  There is also focus around end of season renovations which is a particularly hot topic.
https://attendee.gotowebinar.com/recording/331195302190181379
Machinery Hire (Affiliated Clubs Only) - BOOKING IS NOW CLOSED
Scarifier - £100 / visit plus mileage
Aerator - £100 / visit plus mileage
To book please visit - 
https://booking.ecb.co.uk/d/6nqw2c
GMA - Interim Works and Fit for Play Friday 10th July 2020
Groundsmen Q & A 14th July 2020 7:30pm
Updated GMA Guidance relating to maintaining cricket playing surfaces - 2nd July 2020
Please see below a download which contains details of updated GMA guidance relating to the maintenance of cricket playing surfaces.
Sussex Association of Cricket Groundsmen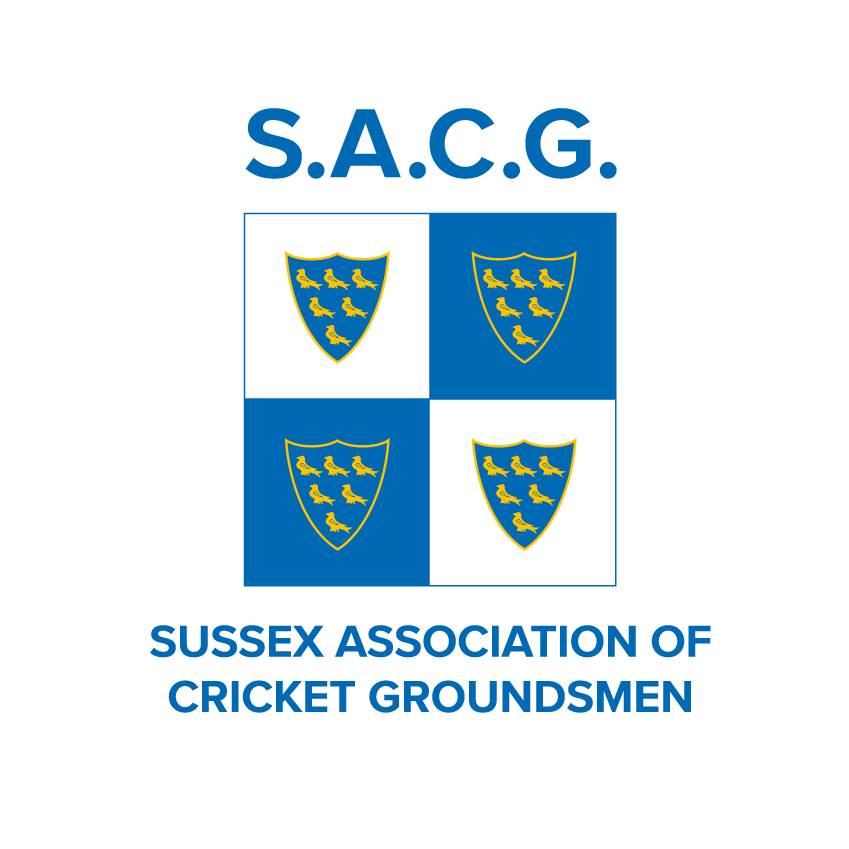 The association was created to improve pitches in the County and to allow like-minded individuals to share a wealth of experience and wisdom to benefit the game as a whole.
The Association role
• Organise educational courses and workshops in cricket Groundsmanship
• Offer local support, help and advice through networking and pitch advisors.
• Provide access to machinery for end of season renovations and winter spiking via the trailer.
• Promote groundsman and good practice.
• Represent the best interests of groundsmen in the County.
Benefits to clubs/groundsman
• Training.
• Advice.
• Subsidised access to specialist machinery.
• Representation.
• Increased standards.
Join us on Facebook for sharing of ideas and groundsmen chat.
SACG AGM Minutes 7th January 2020
SACG AGM Minutes 29th November 2018
Spring Summer Workshop 16th March 2019
The aim of the day was to give an understanding of the sort of skills and knowledge you need to know in order to tackle the transition from late winter into the cricket season to prepare the best possible surface that you can with your resources. This will not be the last word in cricket groundsmanship, but rather a foundation on which to build.
Download a copy of the notes from this workshop.
NatWest Cricket Club Pitch Doctor
Pre-Season Rolling & Squaring
Pitch Preparation
Final Preparation & Marking
Pitch Renovation: Repairing Foot Holes
Pitch Renovation: Follow Through and General Pitch Repair
Pitch Renovation: Over Seeding and Calibration
Pitch Renovation: Plugging
Nets Maintenance