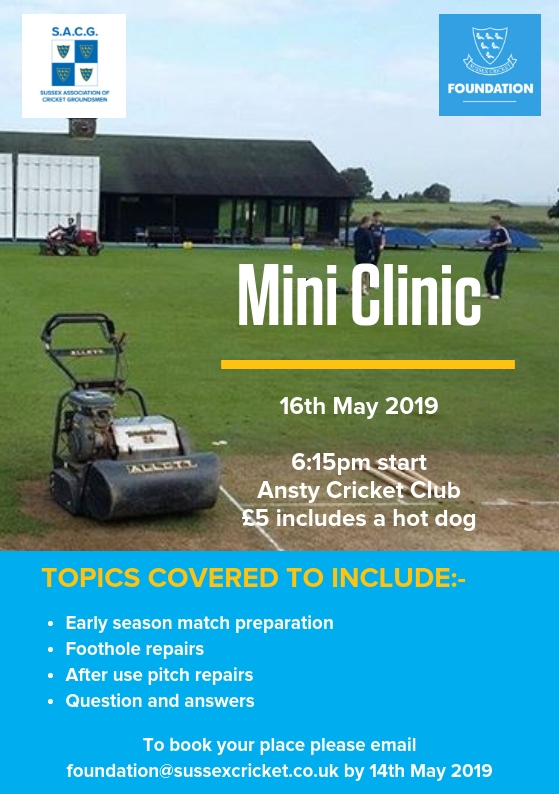 Please note this is for SACG Members only. If you'd like to attend and are not a member you can sign up on the day for a cost of £20/year.
Sussex Association of Cricket Groundsmen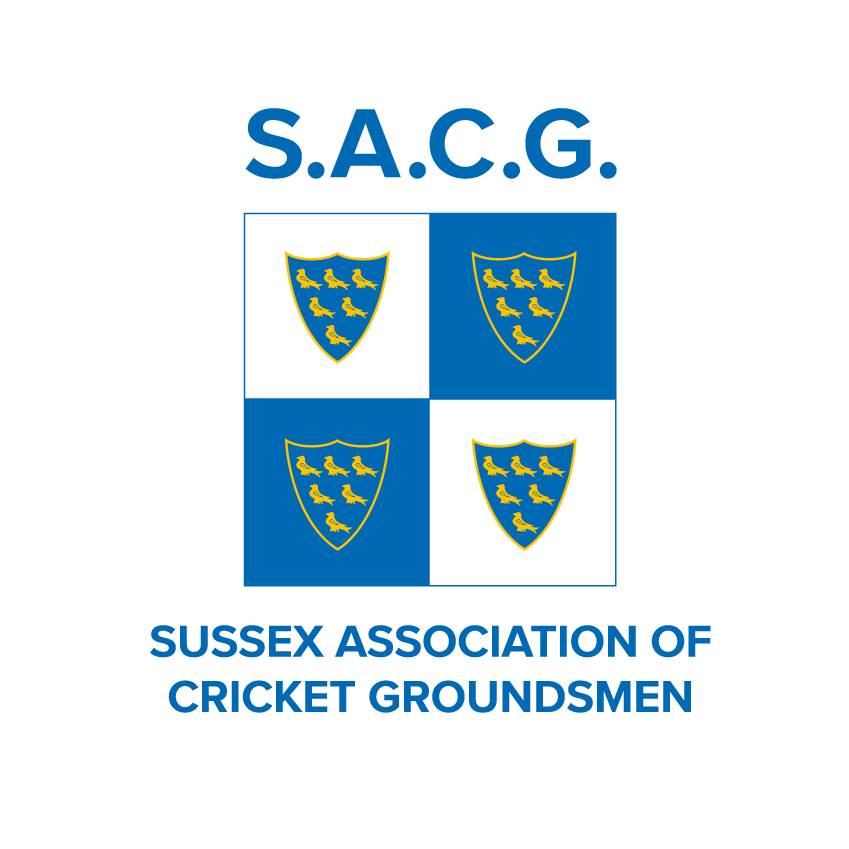 The association was created to improve pitches in the County and to allow like-minded individuals to share a wealth of experience and wisdom to benefit the game as a whole.
The Association role
• Organise educational courses and workshops in cricket Groundsmanship
• Offer local support, help and advice through networking and pitch advisors.
• Provide access to machinery for end of season renovations and winter spiking via the trailer.
• Promote groundsman and good practice.
• Represent the best interests of groundsmen in the County.
Benefits to clubs/groundsman
• Training.
• Advice.
• Subsidised access to specialist machinery.
• Representation.
• Increased standards.
Join us on Facebook for sharing of ideas and groundsmen chat.
SACG AGM Minutes 29th November 2018
Spring Summer Workshop 16th March 2019
The aim of the day was to give an understanding of the sort of skills and knowledge you need to know in order to tackle the transition from late winter into the cricket season to prepare the best possible surface that you can with your resources. This will not be the last word in cricket groundsmanship, but rather a foundation on which to build.
Download a copy of the notes from this workshop.
Machinery Hire (Affiliated Clubs Only)
Scarifier - £100 / visit plus mileage
Aerator - £100 / visit plus mileage
For further information please contact steve.pickup@sussexcricket.co.uk
Pitch Advisors Role
• Carry out detailed reports on the quality of pitches and provide recommendations for improvements, including full PQS analysis, min-visits and follow up reports
• To help maintain a healthy association.
• Offer informal local advice and links to resources.
• Run courses/mini workshop on behalf of its members.
• Raise awareness of standards and offer support, advice and encouragement.
Pitch Advisors Price List
Mini pitch report - £100 plus mileage 0.45p per mile
Price includes :-
Site visit

Visual inspection

Verbal advice

Mini Report
Full pitch quality survey - £250 plus mileage 0.45p per mile
Price includes :-
Site visit

Visual inspection

Performance Quality Standard testing against benchmarked national standards

Written report
Contact Details
For pitch advisor bookings – Steve Pickup: steve.pickup@sussexcricket.co.uk 
County Pitch Advisor – Andy Mackay: andy.mackay@sussexcricket.co.uk 
County Pitch Advisor – Brian Sandalls: brian.sandalls@sussexcricket.co.uk  
County Pitch Advisor – Brian Fletcher: brianfletcher1@btinternet.com
NatWest Cricket Club Pitch Doctor
Pre-Season Rolling & Squaring
Pitch Preparation
Final Preparation & Marking
Pitch Renovation: Repairing Foot Holes
Pitch Renovation: Follow Through and General Pitch Repair
Pitch Renovation: Over Seeding and Calibration
Pitch Renovation: Plugging
Nets Maintenance