CURRENT MATCH: Sussex CCC vs Gloucestershire
Performances of the Year: Jofra Archer 6-70 vs. Leicestershire in Championship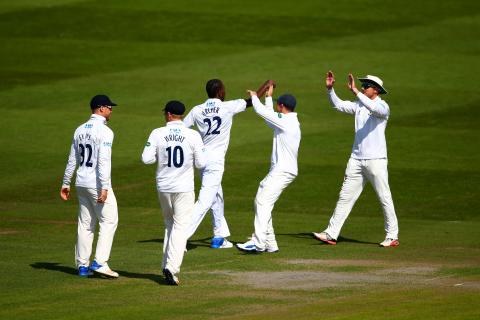 Leicester, 11th June 2017. Word was getting around about Sussex's lithe young quick with the silky-smooth action. He had already taken two five wicket hauls in the Championship matches against Kent and Durham earlier in the season. But this was when people really started to talk.
Jofra Archer, by his own admission, is a regular visitor to his Cricinfo profile. He likes to check that his economy rate isn't creeping up too much. Something had been bugging him on recent visits, however. The '10 wickets in a match' column of his bowling stats still had a zero in it. Given that this was only the 12th first class match of the 22-year old's career, no one else was too concerned, particularly since the number in the wickets column was rising quicker than the value of a Bitcoin.
Jofra wasn't going to settle for that though and with 5-61 in the first innings and Sussex needing a decent performance in the field after conceding a lead here at Grace Road, he spotted his opportunity. The only thing was, he'd sent down 30 overs in the first innings, the most he'd ever bowled at this level. Would he be able to muster the same venom a second-time round?
With Vernon Philander off injured, Jofra shared the new ball with Chris Jordan. To begin with he struggled slightly to find his radar. Was that first innings workload taking its toll? Then, with his 23rd ball, Jofra set his sights perfectly and delivered a nasty bouncer that homed in on Paul Horton's gloves and presented Michael Burgess with an easy catch behind.
After a breather and wickets for Jordan and Danny Briggs, Jofra struck in his second over back: a seriously quick ball that jagged back at Ned Eckersley and trapped him in front.
There were five runs from the next three overs as Archer and Briggs turned the screw, and then Jofra unleashed a rapid yorker to Mark Pettini. The Leicestershire number six just about got his bat down in time, but had completely lost sight of the ball in the process. By the time he'd reoriented himself, it was too late. The ball had rolled back on to his stumps and Archer was two away from the ten-wicket haul that he coveted so much.
In his next over, he banged in a sharp bouncer that the well-set Harry Dearden couldn't escape. The ball flicked the edge and flew into Burgess' raised hands.
Jofra was forced to wait a little longer for his big moment when Jordan replaced him. He might have been a little worried that the milestone would elude him when Briggs was rewarded for his pressure building with the seventh and eighth wickets.
But 18 balls into his third spell, Jofra had a flat-footed Clint McKay caught in the slips. He dropped to his haunches and clenched his fists in satisfaction. The rest of the Sussex team queued up proffering high fives and pats on the back, equally as pleased as the man himself. Even Umpire Wharf appeared to give a nod of recognition as he handed Jofra's sweater back. Ten wickets in the match.
For good measure, Jofra cleaned up Dieter Klein with another swinging yorker to finish off the Leicestershire innings and end with match figures of 49.4-14-137-11. The home side were all out for just 175 and Sussex went on to chase their target of 232 for the loss of five wickets.  
Jofra went on to take 61 wickets in his 13 Championship appearances in 2017. His 89 wickets in all competitions last season earned him a contract extension with Sussex until the end of 2020 and stints in the Bangladesh Premier League and Big Bash this winter. Above all, there is now a '1' in that Cricinfo column.